---
Willkommen! In this Locaux Insider's Must See Do Travel Guide To Kreuzberg, our Locaux Insider Julie Comfort, shares some gems around the city that any visitor should add to their list of musts.
Listen to her story Rabbel With A Cause.
Bookmark and reference this Locaux Insider's Travel Guide to discover places to eat, drink and play around Kreuzberg.

Click & Tweet!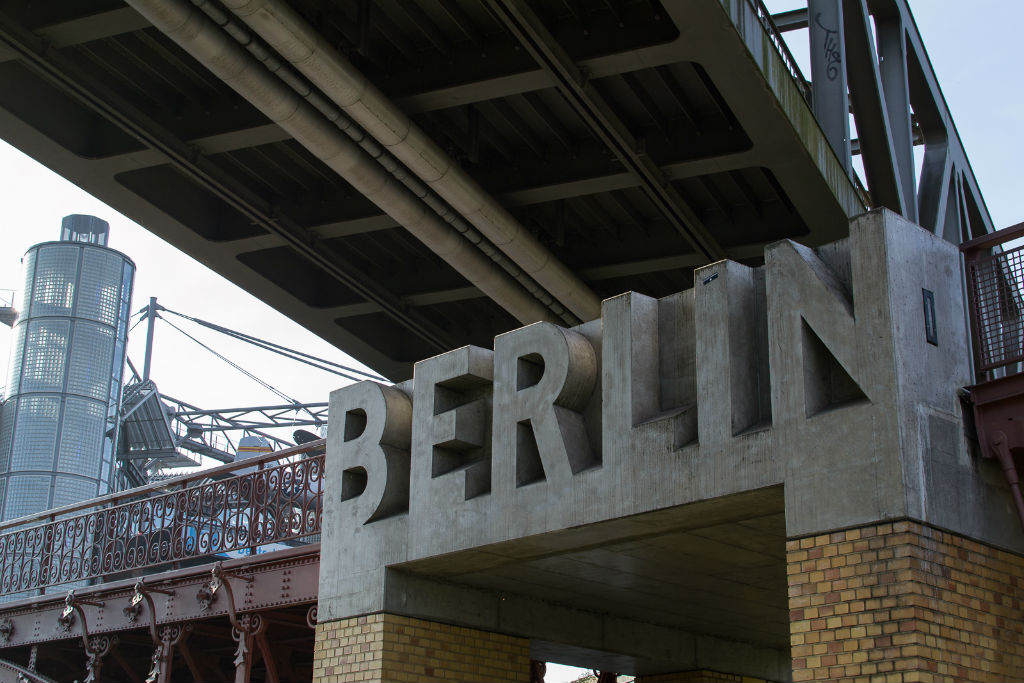 ---
---
Locaux Insider Must See Do Travel Guide To Kreuzberg
---
Eats and Drinks
---
Un café s'il vous plait. For a great coffee and light breakfast or lunch visit:
Kaffee A.Horn – Carl-Herz-Ufer 910961 Kreuzberg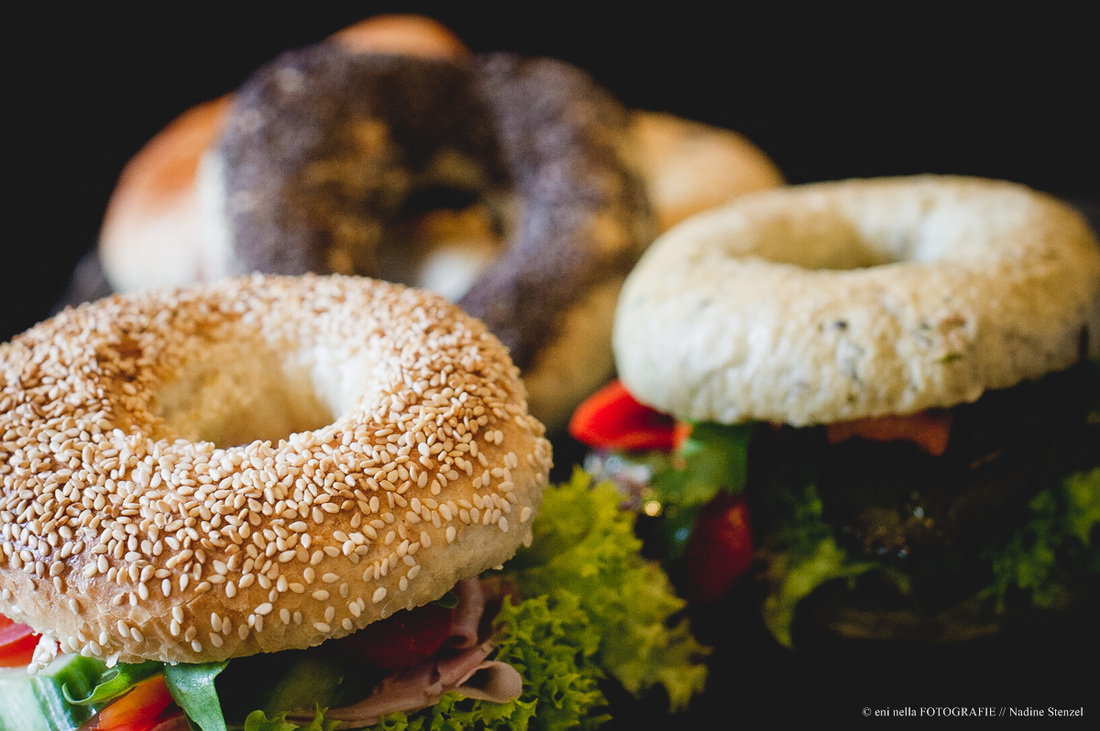 Dining along the banks of the Landwehrkanal (Landwehr Canal)
A.Horn serves a selection of seasonal daily specials, including sweet or savory breakfast and lunch options such as fresh soups, pastas,Spanish omelettes and a hearty snack plate, fresh baked bagels, focaccia and cakes.
The ambiance is relaxed and unpretentious. Fresh flowers and candles adorn each table. The space is welcoming and inclusive of all, including families with young children.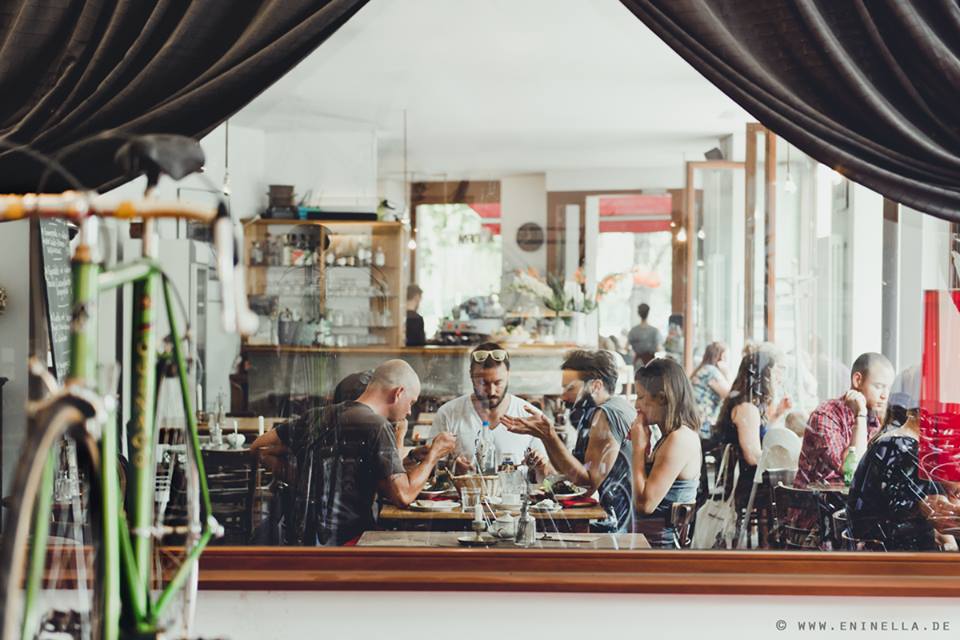 A concrete bar and vintage refrigerator close to the entrance, sets the tone from the moment you enter. The interior is light, airy and spacious; allowing for a comfortable experience for solo guest and groups alike.
Enjoy jazz? Visit A.Horn on any given Thursday, as it's considered a great venue for jazz lovers.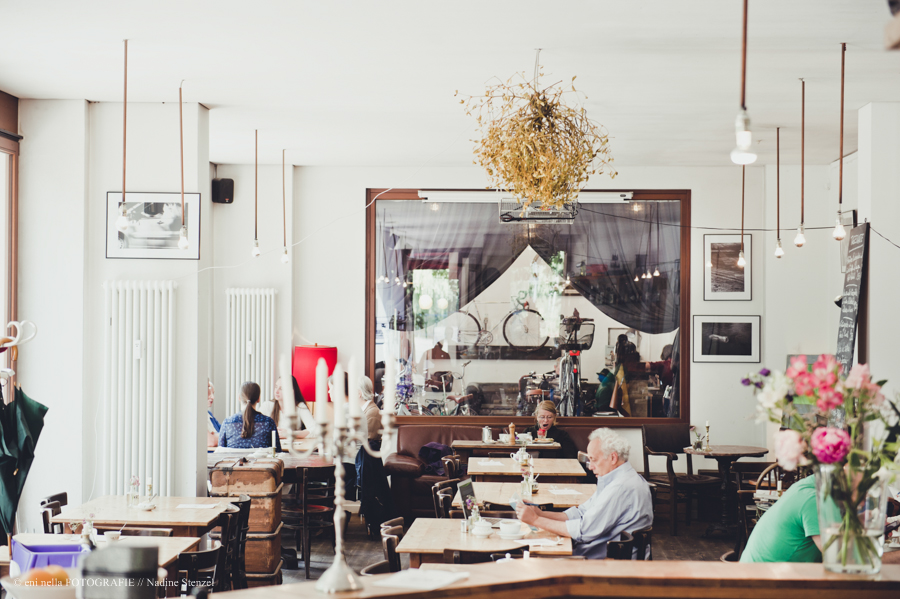 Concierge Coffee  – Paul-Lincke-Ufer 39-40 10999
Concierge is a cozy, yet charming 'other world' type speciality coffee store inside a former concierge office by the canal.
You patronage strictly for the best coffee and maybe a delish brownie, rather than having a leisurely linger or while dithering on your laptop, as it's tiny size makes seating is near non-existent.
Casual Dining
Luftgarten – Tempelhofer Park, Eingang Columbiadamm 10965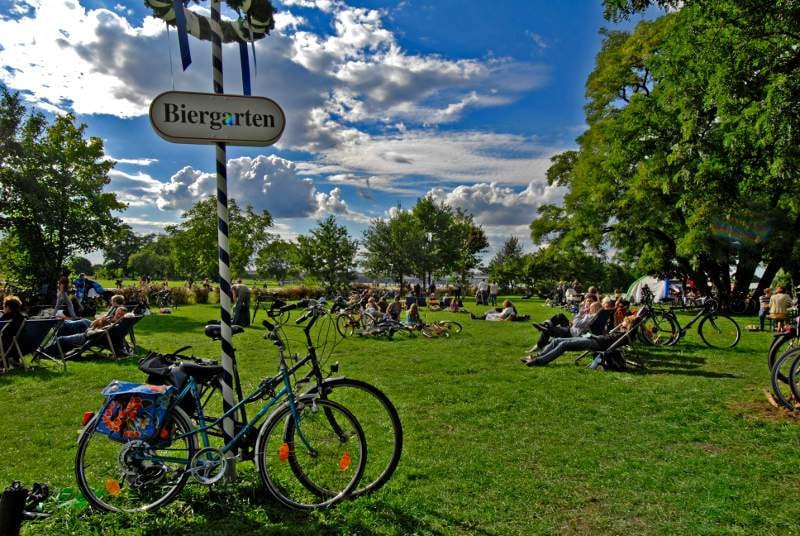 The Luftgarten is a new, yet old established recreation area and green oasis. It is an ideal place to relax and enjoy a great sunset in the heart of Berlin.
This is the site of the former Tempelhof airport built in the 1920s and closed in 2008. At time Berlin reclaimed the 386-hectare of open space and one of the world's largest buildings in a central location. It is now a public park beer garden.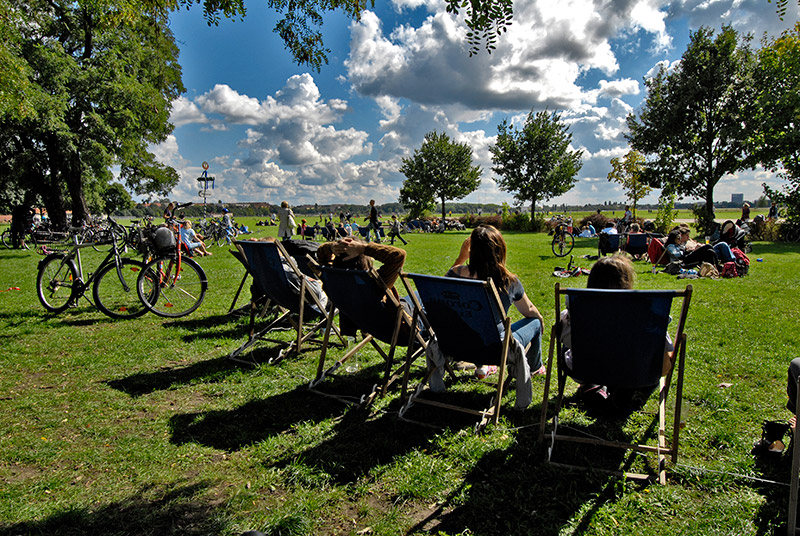 Julie suggests having a bratwurst with that nice beer you went for. 😉

Note: Today, the area has a an enormous picnic area for all visitors, a 2.5-hectare BBQ are, six-kilometor trail that's great for cycling or running, and, a field of about totaling about four hectares dedicated to dogs and their human companions.
Cocolo Ramen – Paul-Lincke-Ufer 39, 10999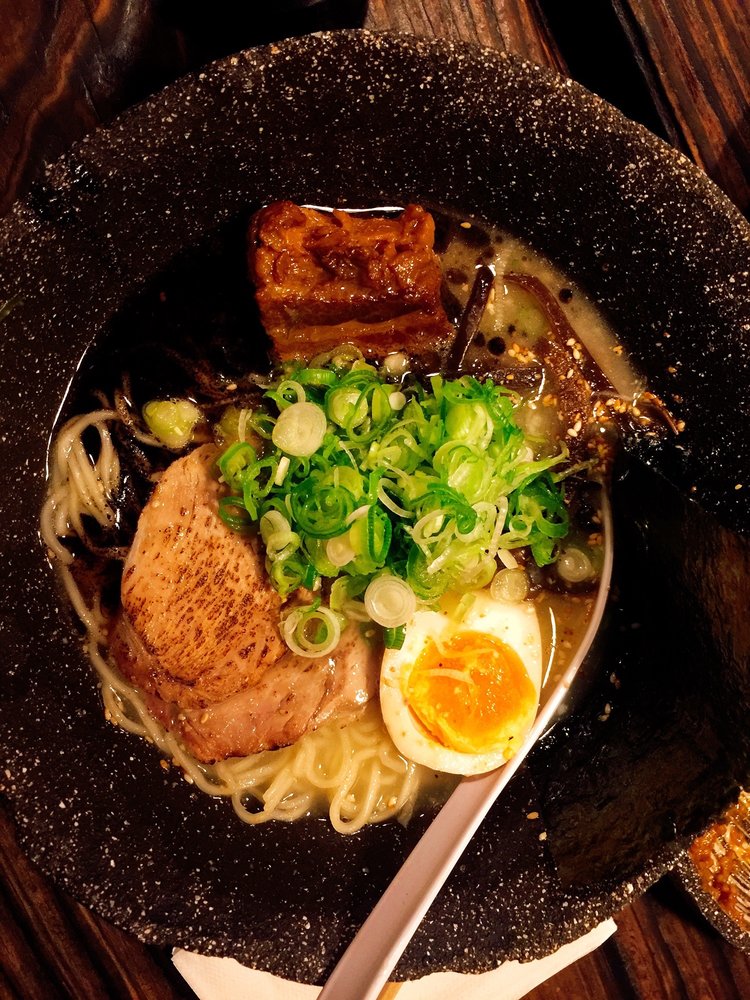 Cocolo is a mainstay for any Berlin foodie craving Japanese Ramen, and thus that makes  it a must during your visit.
The menu is simple, consisting of a few classic ramen  dishes (miso, shoyu, shio, tonkotsu) as well as a selections of sides like gyoza (fried dumplings) and edamame,
There are two locations of this popular eatery. The original is located in Mitte, and the newer location in Kreuzberg. Both locations dish up equally delicious fare.
With only a handful of seats, the Mitte location is cozy, always packed with people able to watch preparation behind the counter; most seat are primarily facing the open kitchen. This location doesn't allow for reserving a table, and is primarily catering to walk-ins. It's the ambiance – authentic, Japanese-style – that makes this location worth a visit if you can get a seat.
Kreuzberg is the second, and much larger location. It has a massive outdoor area by the canal, and allows reservations.
Markthalle Marheineke – Marheinekeplatz 15, 10961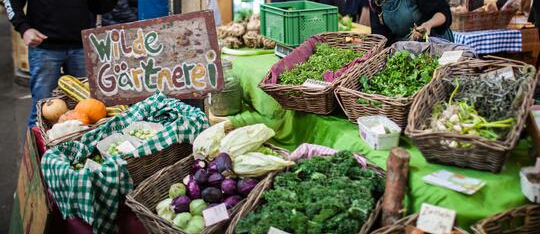 Marheineke Markthalle and surrounding vibrant neighborhood of Bergmannstraße, has a long history in Berlin.
In and around the market hall, there are numerous stands to grab a quick snack, cozy cafés and the Restaurant Matzbach to sit for a proper meal.
The market is extensive, and also great place to shop and stock up on fresh meats, cheeses, breads, local organic produce, international delicacies and flowers.
Upscale-ish Dining
Though she mentioned the following, Julie suggested they aren't really fine dining in the fancy sense, just a step above casual really.
Khwan – Revalerstrasse 99, 10245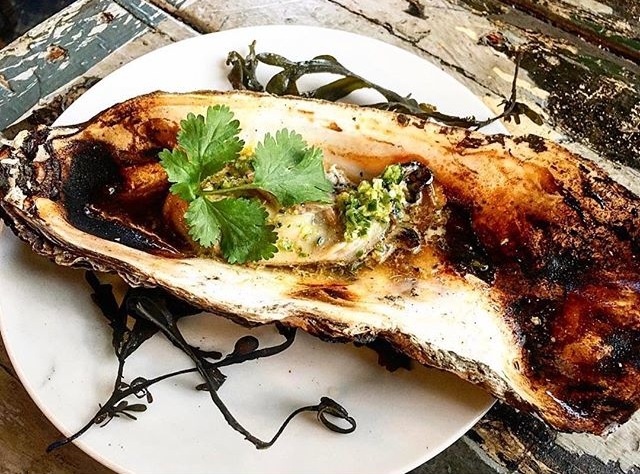 The smoke from the spice-ladened meats and seafood grilled over a wood fire, and wafting through the air lures you to Khwan.
With a menu inspired by the impeccably seasoned Isaan-style dishes of Northern Thailand, Khwan dishes their fare in tapas-like portions that are perfect for sharing.
You must be know Khwan does not shy away an abundant use of heat, garlic and a hint of Gapi (salted and fermented shrimp paste) in their creations, and neither should you.
The menu, though minimal, is in no way limited. This is exemplified in the range of vibrant colors, bold and satisfying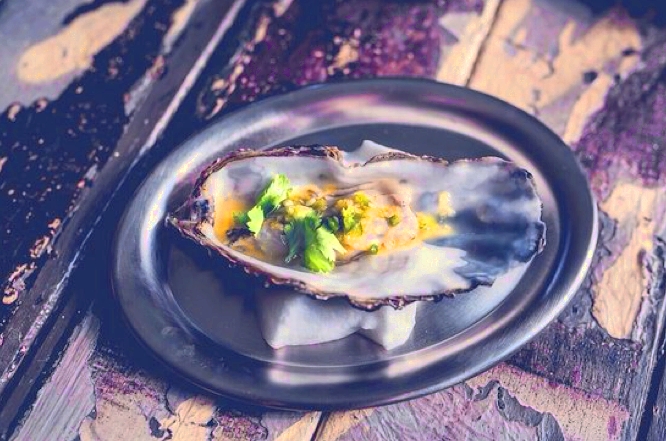 flavors of glazed lamb, grilled fish, ribs, pork belly and the pièce de résistance: the generous-sized fire grilled and smoked oysters dripping in a plentiful amount of garlic.
While have a luscious meal, do be mindful to save room for some their pomelo and pomegranate "miang kham", with toasted coconut and tamarind and wrapped in a betel leaf.
Caligari – Kienitzer Straße 110, 12049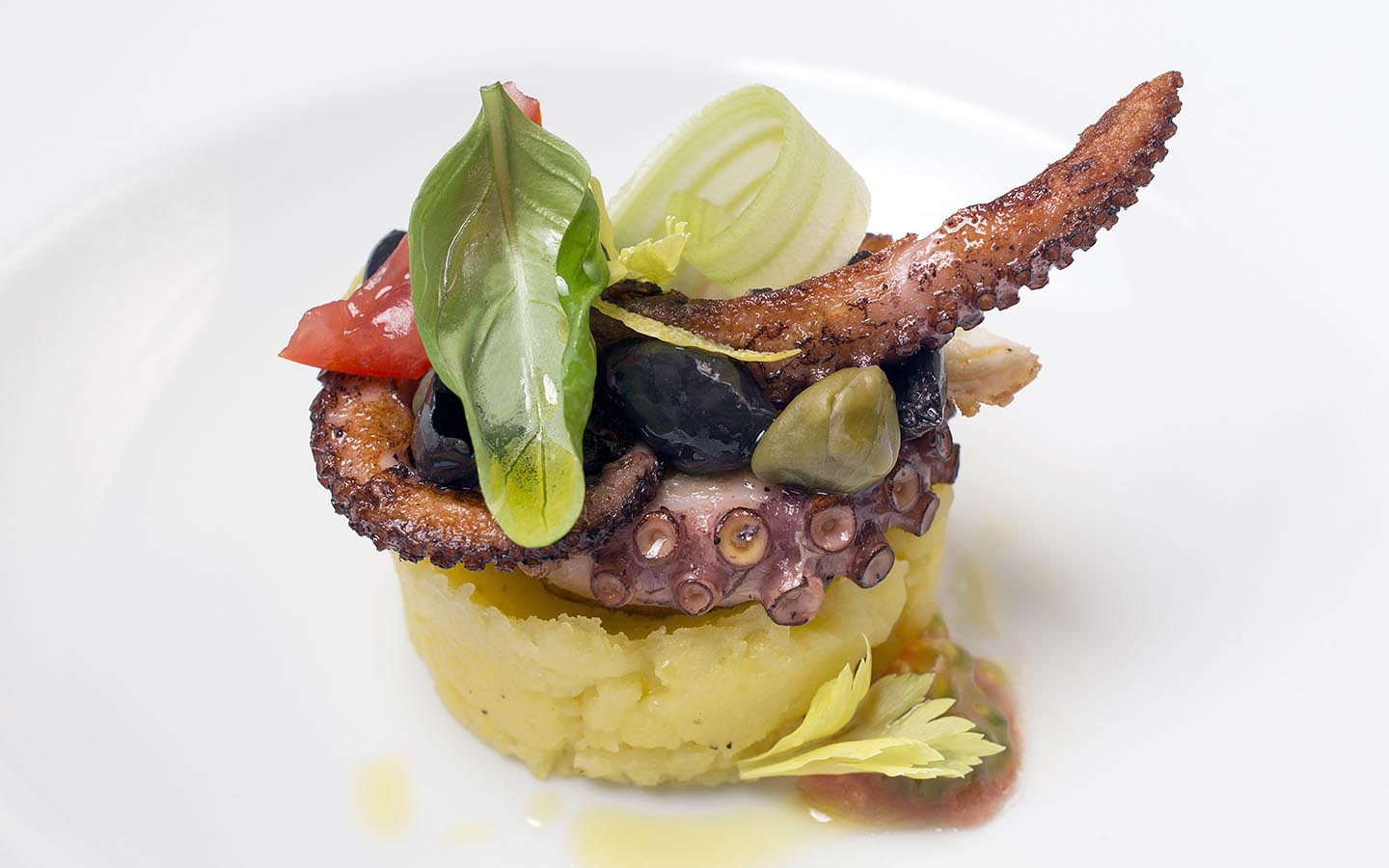 Caligari is charming Italian bistro serving a menu of items ranging from a simple breakfast of a tasty croissants and cappuccino, to freshly made pasta, soups and salads for lunch.
But there's more: the crew is also organizing "supper club" style events focusing on different international cuisines.
The space is bright, minimal with an open, yet cozy environment. The tables handmade Sardinian tiles, adding to the ambiance for a nice Italian dining experience.
Wine Bars
Not Only Riesling   – Schleiermacherstraße 25 10961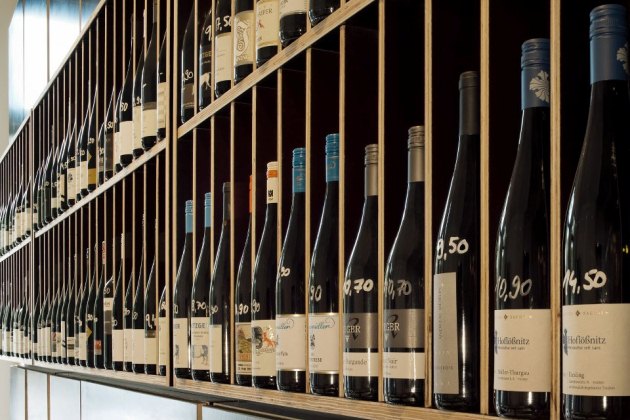 A sophisticated wine bar and shop where novice and aficionados alike, can sample the diversity of wines from German producers, while mingling in Berlin's vibrant night scene.
Guests are treated to an array of open bottles, cheeses, cold cuts, mustards and chutneys presented on rustic serving boards.
Saturdays are reserved pairing their range of white wine with fresh oysters.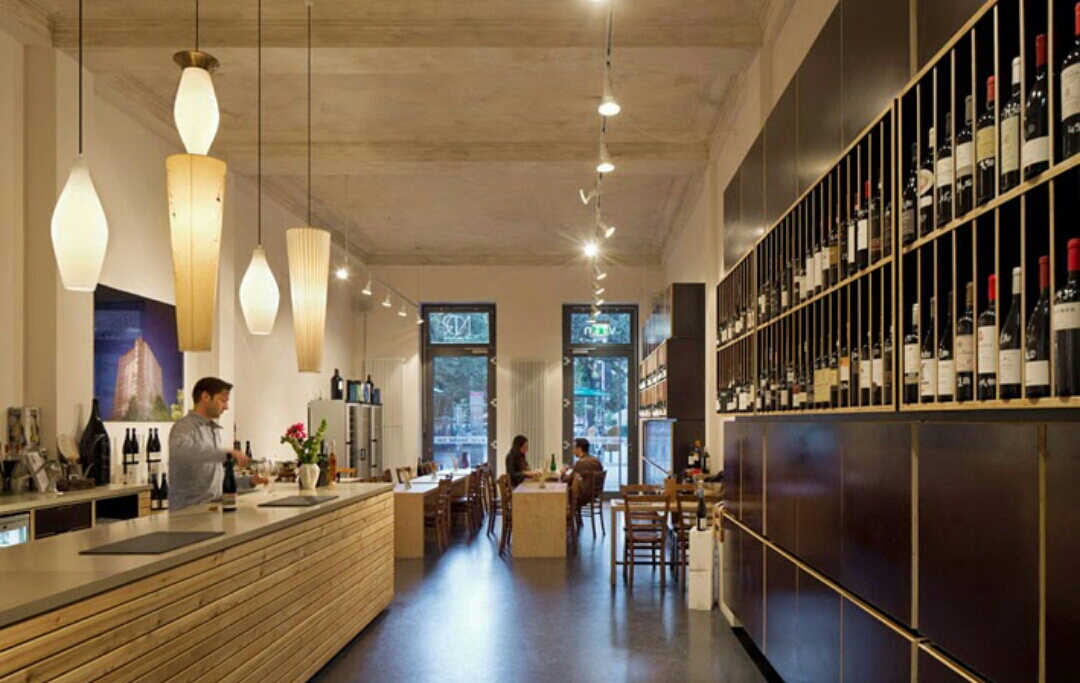 Ankerklause – Kottbusser Damm 104, 10967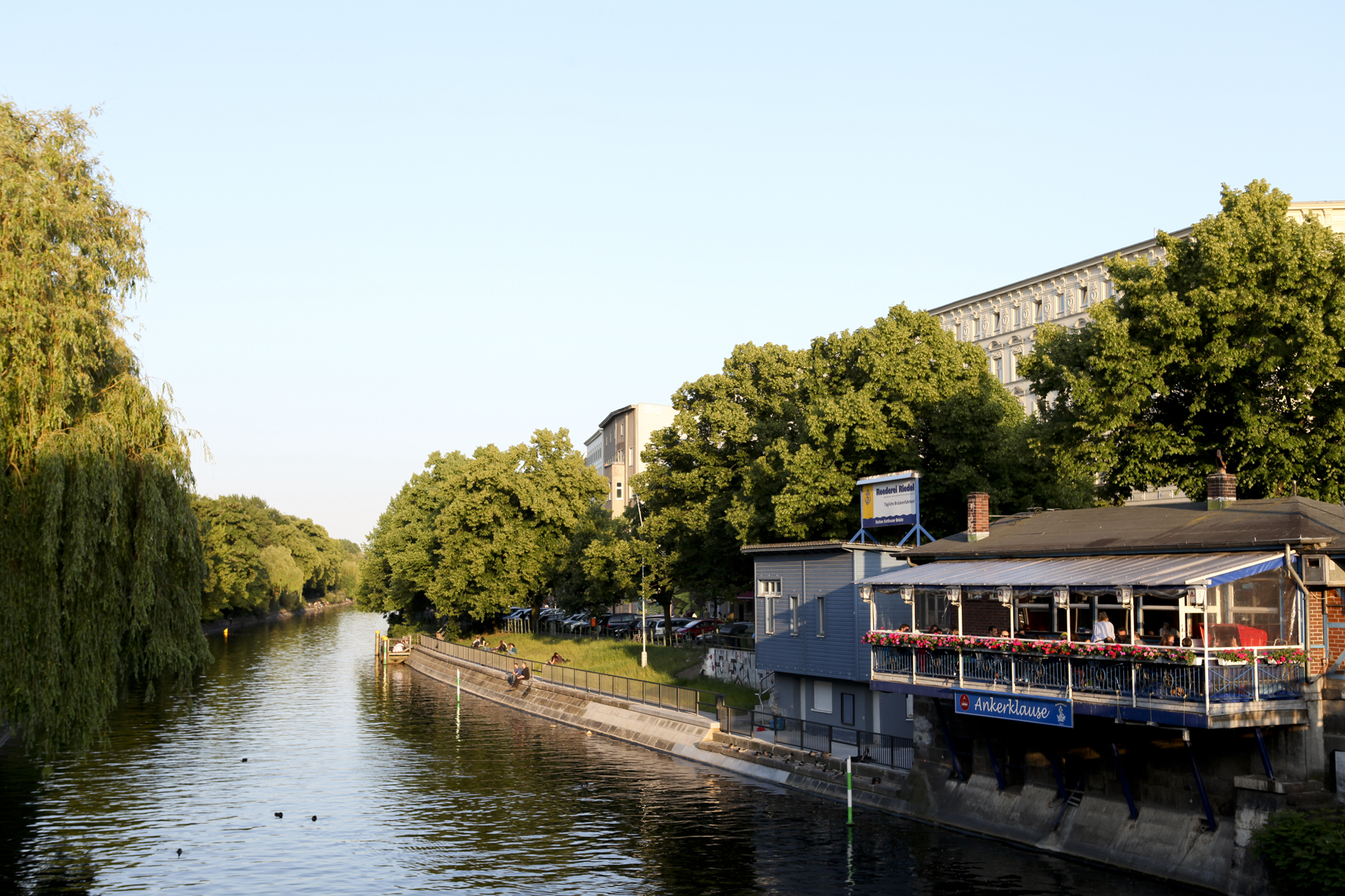 If you're up for being the Captain's First Mate, you may enjoy Ankerklause and it's nautical themed interior.
On a great day, the outdoor seating is perfect for drinking a few, while catching up with your mates.
---
A Bit of Shopping?
---
Hyper Local Markets
Veist  – Selchower Straße 32, 12049

Veist is a vintage and second-hand shop you're into 80's revival, you should also find there what you're looking for.
Rent a Dress
On a budget, or haven't found the energy to buy a dress for that party you want or have to attend? You can rent a dress at the last minute for party at Veist.
Nowkoelln Flowmarkt Sunday Flea Market | Maybachufer – Maybachufer 31, 12047 U Leinestraße

This Sunday market offers a large mix of second-hand and hand-crafted items along with local music and art acts food stands. It happens every Sunday 10am-6pm.
BooksBooksBooks
Totem Bookshop  – Maxstraße 1, 13347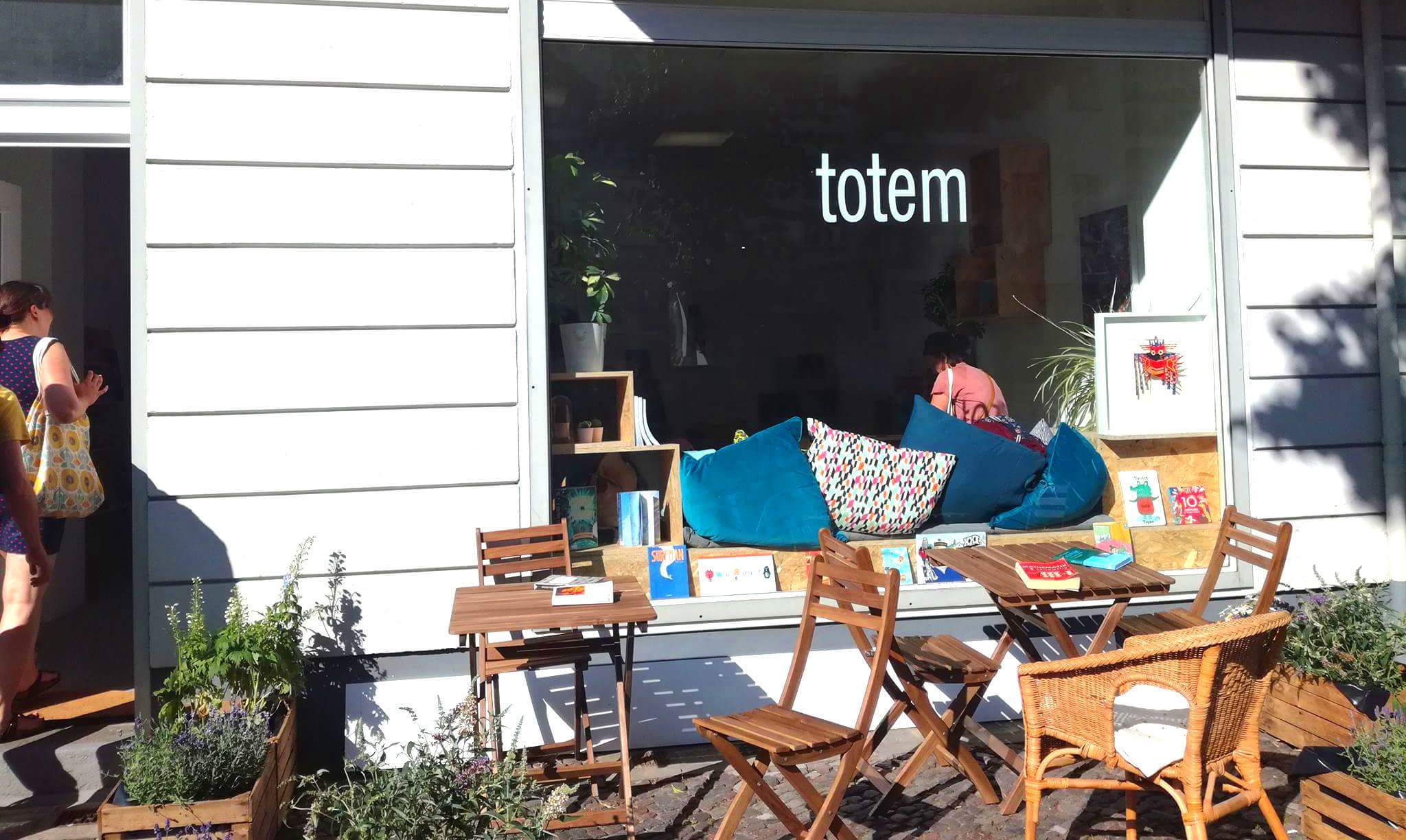 A bookstore and café specializing in illustrated books, in several languages, ​​for children and adults.
They also host interactive activities and exhibitions.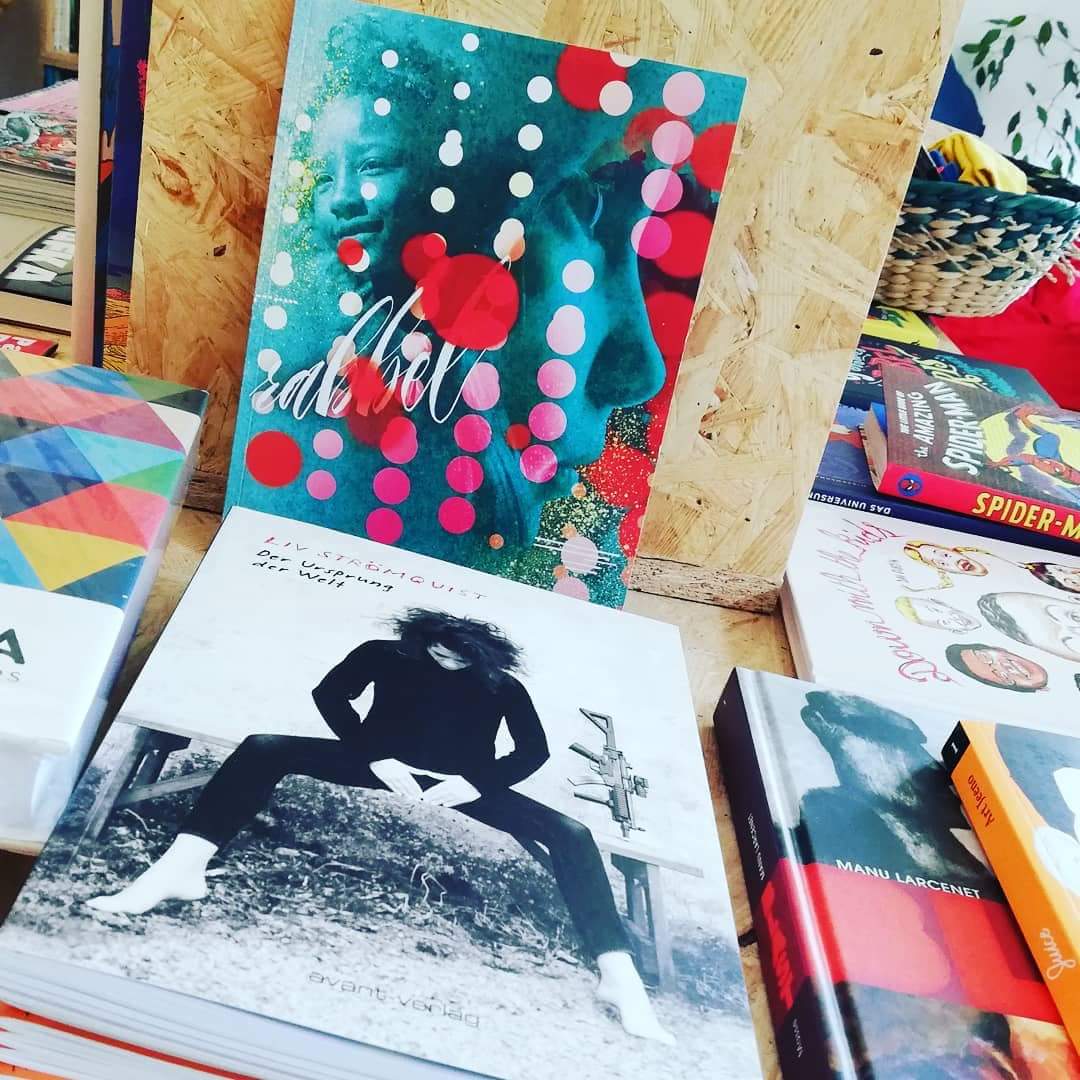 do you read me?! – Auguststraße 28, 10117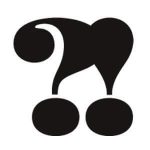 With their focus pointed toward art, fashion, photography, design, as well as architecture, literature, music, society and contemporary culture, this iconic bookstore stocks hundreds of international magazines, themed journals and books from more than twenty countries.
---
Know The Happenings
---
Bite Club  – Eichenstraße 4, 12435

Fueled by the creative energy of new chefs, and the fact that Berlin possesses a sense of open freedom and fun, a street food party with drinks and music, were the inception of what drives Bite Club.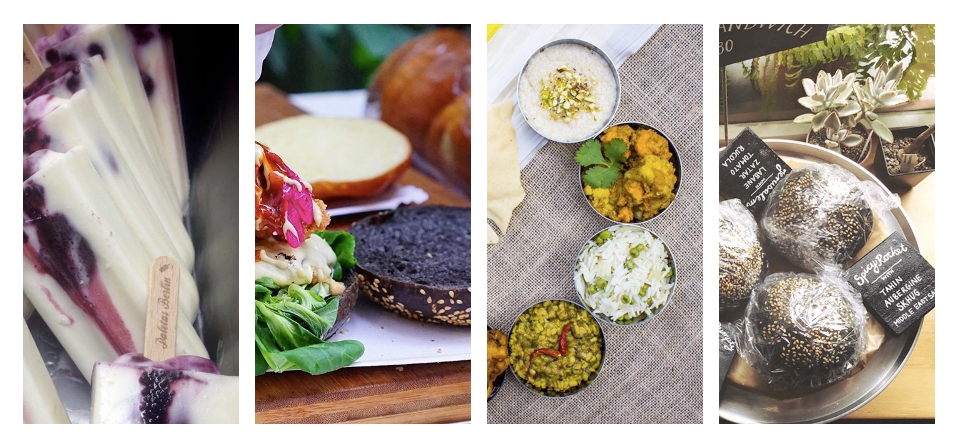 Launched in 2013 in Kreuzberg, the idea was to create a pop-up experience to enjoy great food and drinks from local traders. It has been at the core of the city's exciting street food since 2013, taking place bi-monthly on Friday nights.
Events by Bite Club don't have a fixed location, and essentially makes appearances around the city at larger happenings like Berlinale and Berlin Food Week.
Street Food Thursdays – Eisenbahnstrasse 42, 10997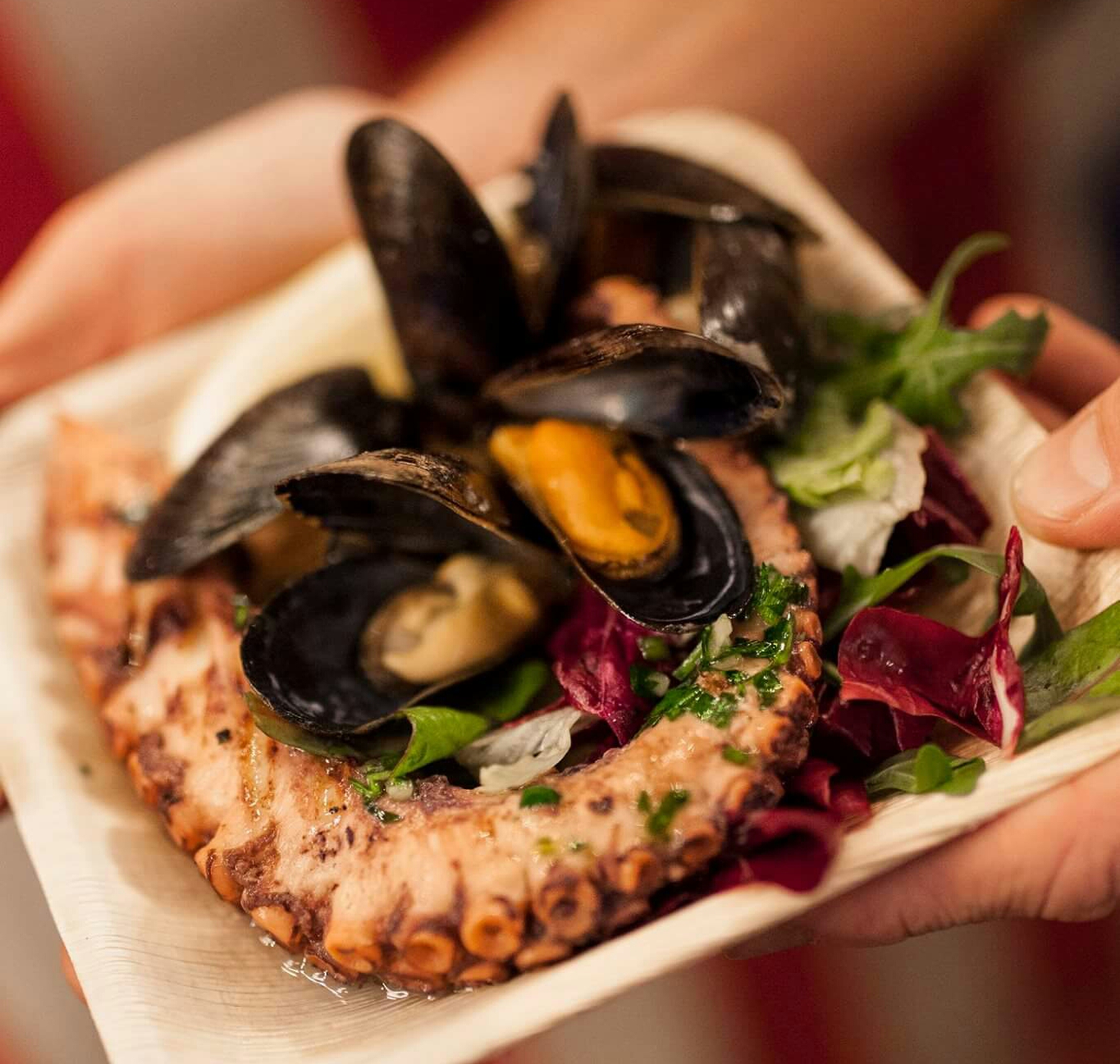 Hailed as "one of the hottest food spots in the whole country", Street Food Thursdays is mother of all street food events in Berlin.
Founded in early 2013, it started the food craze that has swept the city.
Every Thursday thousands of people descend upon Markthalle Neun in Kreuzberg, to indulge in tastes from a variety of vendors selling food from all over the world. The roster of vendors rotates weekly, with the exception of a couple regulars. The event is rooted in dishing up great food. However, the offerings are rounded out with craft beer, wine and cocktail bars.

Also, if breakfast if your favorite meal of the day, check out Breakfast Market, the street food market dedicated to only breakfast. Schedule accordingly. It happens every third Sunday of the month.
In the same venue, featuring a lot of the same vendors, you will also find the a true breakfast heaven and a must if you're visiting Berlin!
---
Culture | Around Berlin
---
Tempelhofer Feld – Tempelhofer Damm, 12101
Stroll Along Landwehr Canal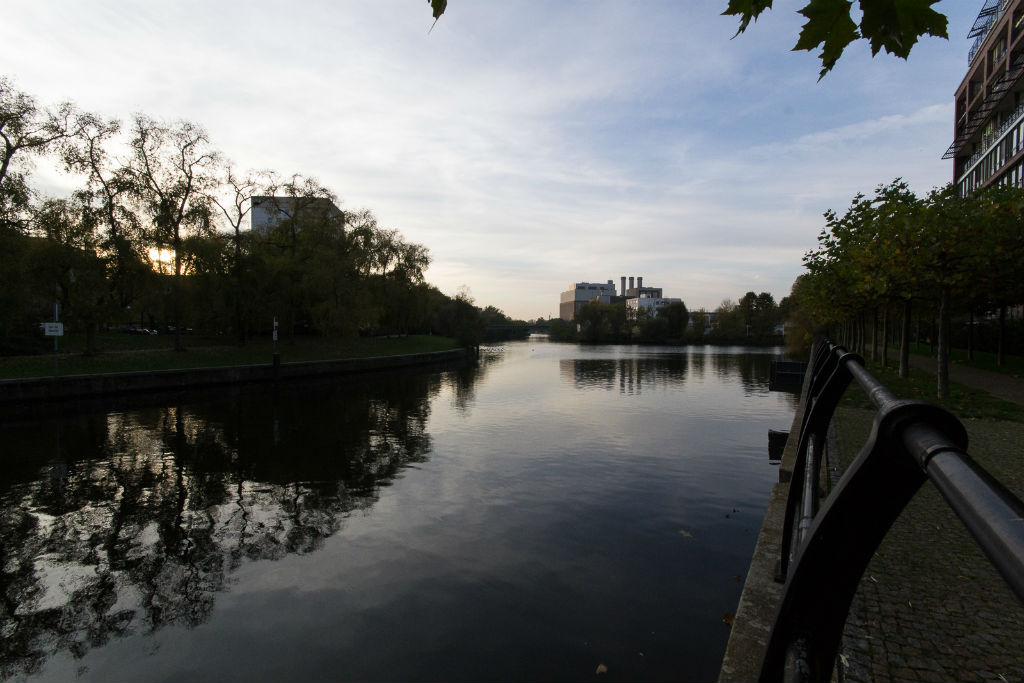 Built between 1845 and 1850, the Landwehrkanal stretches for more than six miles through Berlin, starting in Friedrichshain in the East running parallel to the Spree River and winding its way to Charlottenburg in the West.
While on a stroll, you may pass through several key neighborhoods that include several historical and architectural sites from the 19th century "altbau" houses to modernist buildings such as Mies ran der Rohe's striking Neue Nationalgalerie. Also, along the path is the Bauhaus Archiv, built in 1979 by Bauhaus founder Walter Gropius to showcase a range of pieces related to the Bauhaus movement of the early 20th century.
One of the most interesting stretches is from the canal's source near the Treptow border, where you'll find one of Berlin's only existing GDR watchtowers, up to Kreuzberg's Paul-Lincke-Ufer, a street with cafés and the Turkish market held on Tuesdays and Fridays.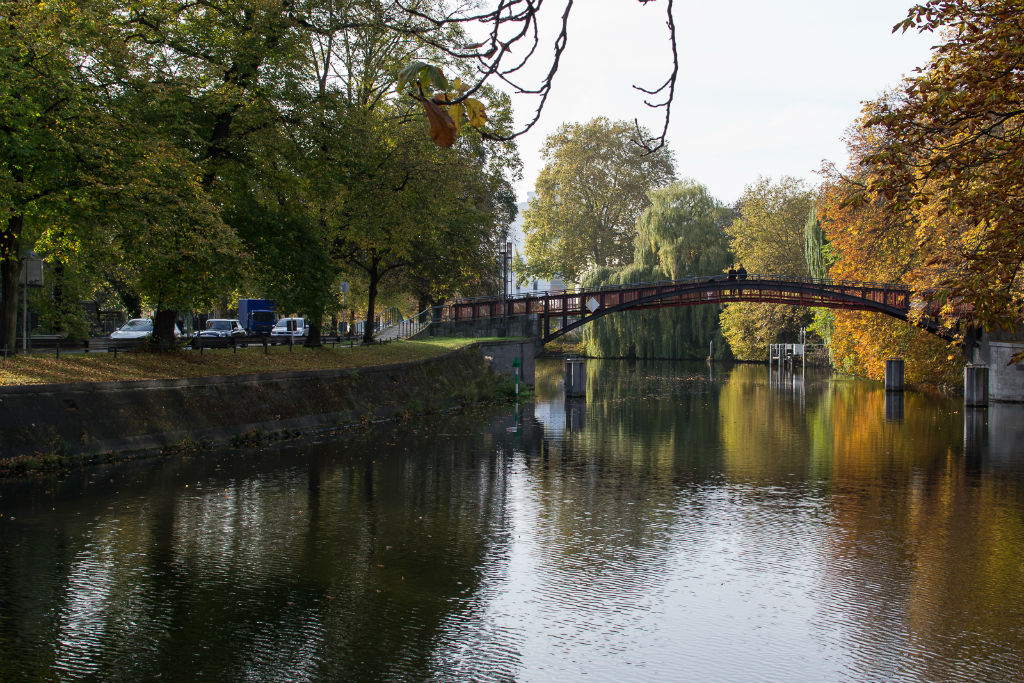 On the other side of the canal is the Maybachufer, part of the Neukölln district. Here you can find the flowmarkt "Nowkölln" every other Sunday. A great martket to avoid the pricey overcrowded tourist trap of Mauerpark.
Beer Gardens
Biergarten Golgatha Viktoria Park –
Dudenstraße 40 10965
You can spend an entire day at The Golgatha in Kreuzberg's Viktoriapark where you can enjoy breakfast in the park, spend the day with wifi, ice cream and cake plus a playground for the little ones, refreshing drinks, swing benches and umbrellas offering plenty of shade on the terrace. Then at night, there's food on the charcoal grill to go with a beer and then you can dance into the night to the DJs' beats with a cocktail in hand.
Private Art Collection Tours
Sammlung Boros  – Reinhardtstraße 20, 10117

The Boros Collection is a private collection of contemporary art belonging to collector Christian Boros, who lives with his family in the upper section of a converted bunker.
Facets of the collection consisting of sculpture, spatial installations, light and performance-based works are on public display in the lower floors not far from the Deutsches Theater in Berlin's Mitte district.
It is comprised of a group of works consisting of about 500 works in total by international artists such as Damian Hirst, Olafur Eliasson, Wolfgang Tillmans, Anselm Reyle, Manfred Pernice, Tobias Rehberger and John Bock, dating from 1990 to present.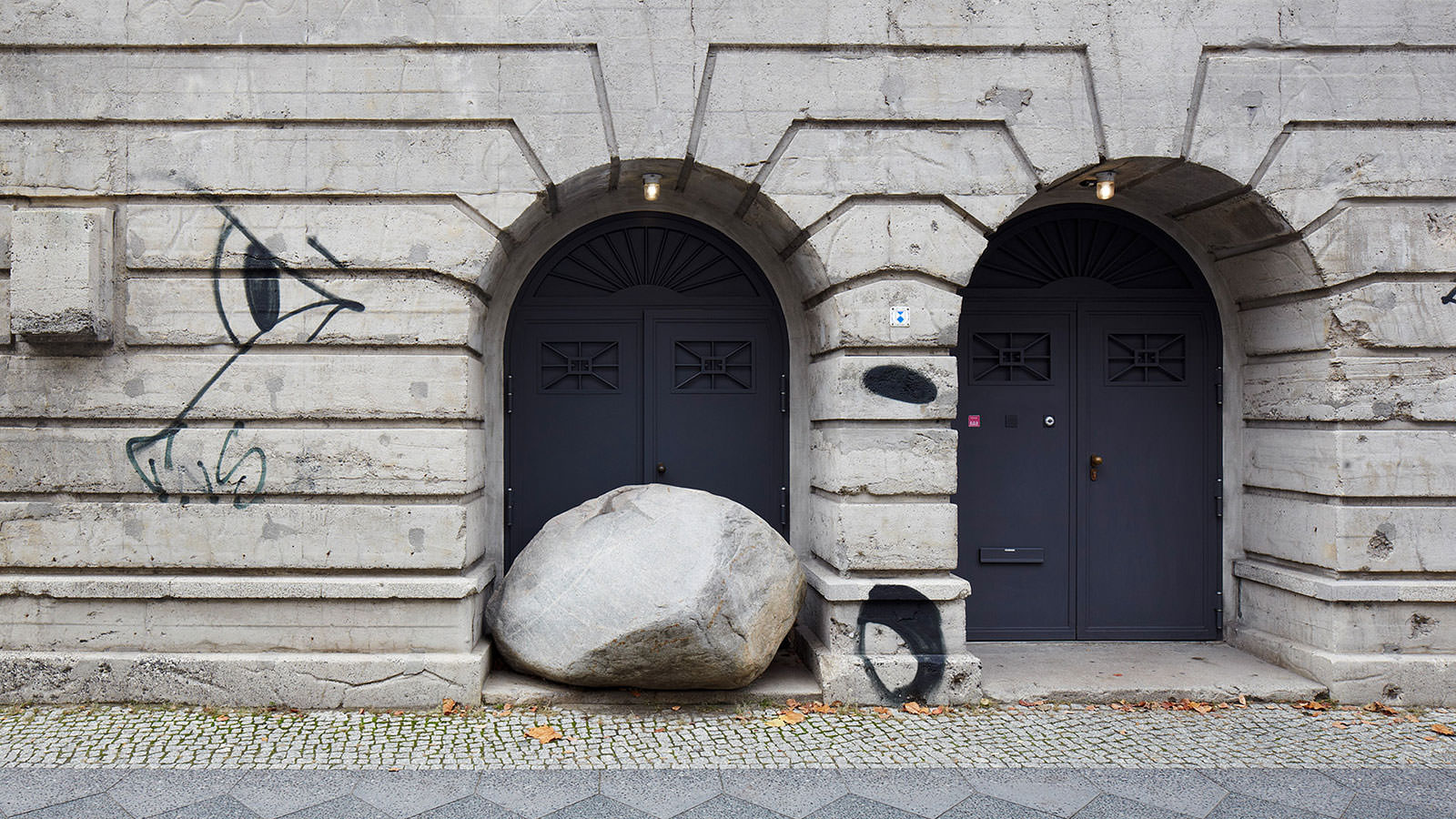 The Boros Collection also presents recently acquired works from the 1990s and 2000, including new site specific works. These works are open to the public via guided tours.
Due to safety regulations, the collection can only be viewed in small groups accompanied by one of our in house guides on extended weekends (Thursday to Sunday).
Note: The tours start on the full hour in German, on the half hour in english. Visits to the collection is only possible through an advance reservation through this website (Book tour now) or through a private viewing. Special tours can be booked daily for individuals and private groups. The price for a special tour is 200€. For a tour with more then 8 people the price amounts to 25€ per person. 
Sammlung Hoffmann – Sophienstraße 21, 10178 Mitte

The Sammung Hoffman collection is the private collection of Erika and Rolf Hoffmann, consisting of their first acquisitions of contemporary art they began to collecting  in the late sixties.
The works they chose were by emerging artists they personally knew and with whom they associated certain engaging, utterly contemporary concepts, as they sought out innovation regardless of medium.
With the sale of their company in 1985, the Hoffmanns dedicated more time and financial resources to their passion privately, until the fall of the Berlin Wall. It was at this point The Hoffmann's too an active role in the cultural changes resulting from the reunification of Germany. This was the impetus to developed a public art gallery: the Kunsthalle in Dresden as a private-public partnership.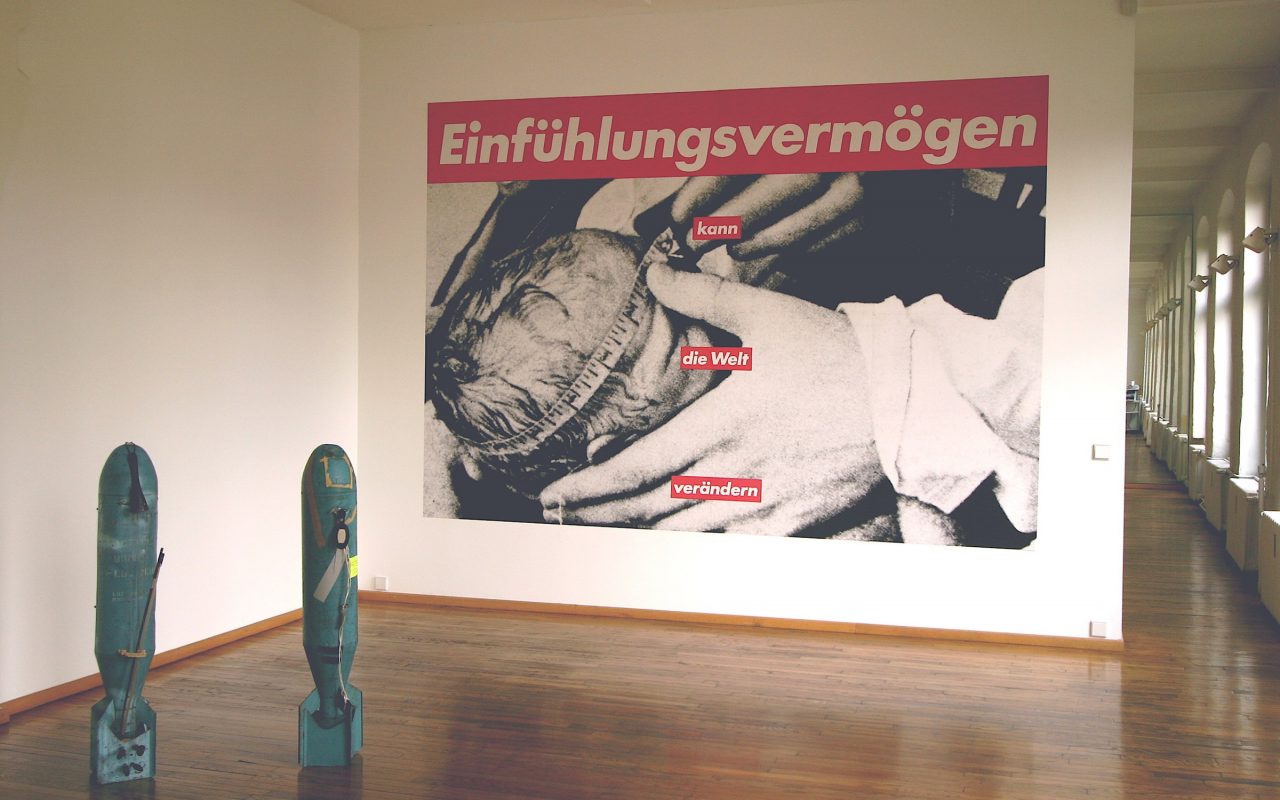 Their effort to lure investors to the project failed due to resistance from the State. This is when the couple began to think about a completely private independent project that might open to the public.
Berlin
In wasn't until 1994 when the Hoffmanns purchased a former factory in Mitte area of Berlin, that they renovated its spaces that opened for public viewing in 1997.
Dresden
Though Erika Hoffmann donated the collection to Dresden State Art Collections in March 2018, Sammlung Hoffmann will remain open and accessible on Saturdays to the Berlin public through 2022.
Note: Tours take place regularly on Saturdays between 11am and 4pm.
Tours last 90 minutes. Entrance: 10 Euro per person
Children older than 6 are welcome, and pay 5 Euro
Both individual and group tours are available Monday through Friday by appointment, and cost 100€ for up to 4 people. Each additional guest (max 20) pays 25€.
To request a tour in a language other than German or English (French or Italian), contact: mail@sammlung-hoffmann.de.
Outdoor Cinemas

Freiluftkino Friedrichshain –
Volkspark Friedrichshain 10407
Freiluftkinos (open-air cinemas) are located around the German capital in parks, old warehouses, and historic courtyards.
Freiluftkino Friedrichshain is most popular open-air cinema in one of Berlin's oldest park (Volkspark Friedrichshain). It's a Berliner favorite, and is the perfect spot for viewing current blockbusters, classic, cult, thrillers, and comedic films in a lounge chair under the stars. German titles are shown as well as English films with German subtitles.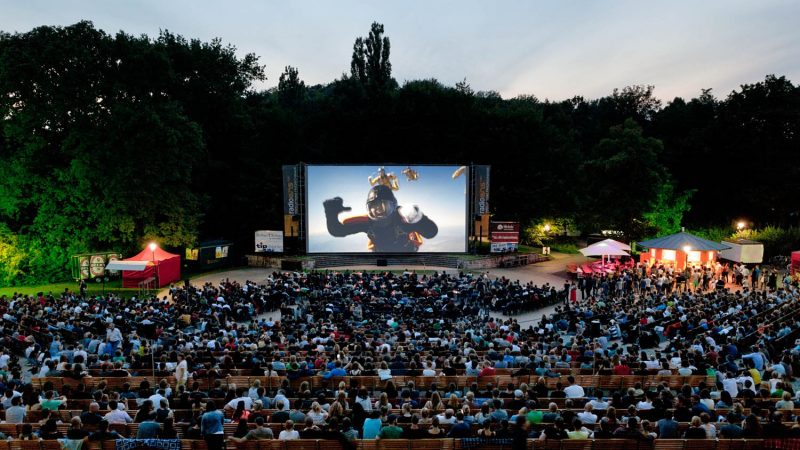 Freiluftkino Kreuzberg presents a fantastic selection of original-version (non-dubbed) films.
The show goes on no matter the weather, you're allowed to BYOF&D: bring your own food and drinks, or you can purchase drinks and snacks from the kiosk located on-site.
Note: It is wheelchair accessible, and an induction loop for the hearing impaired has been included since summer 2014.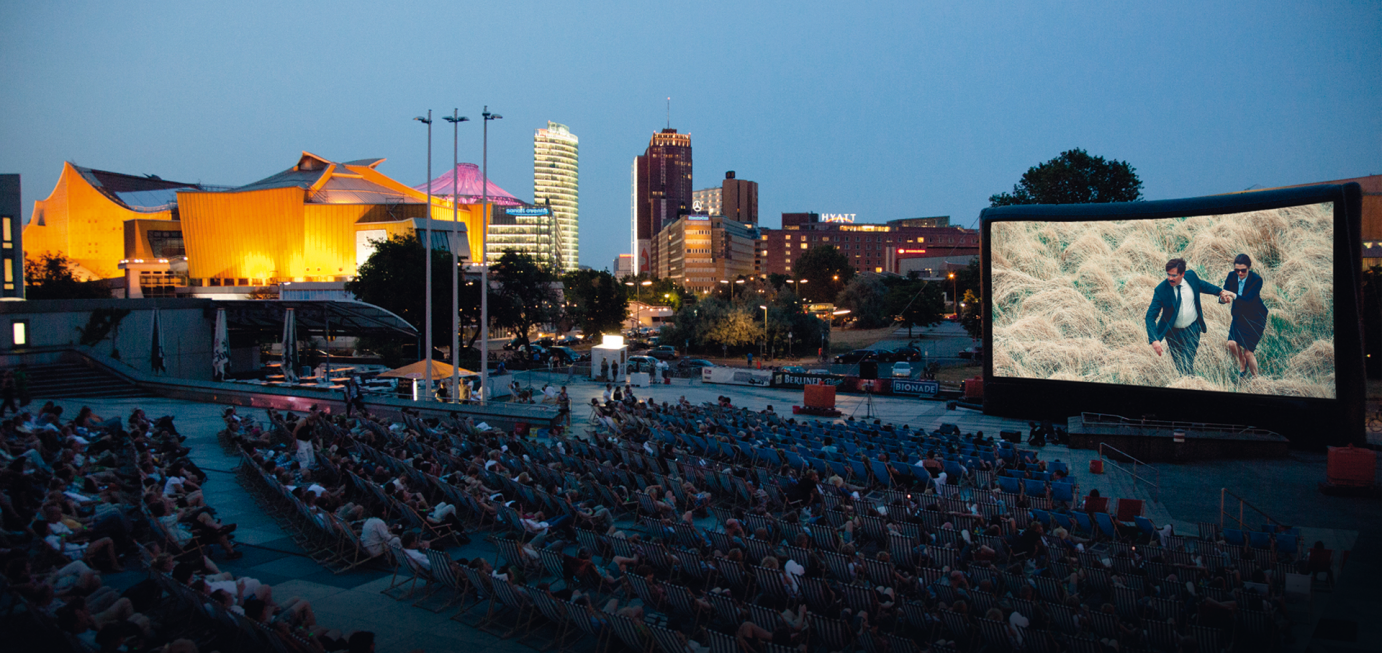 Saunas
Saunas are a way to indulge in some self-care.
When interviewing Julie (hear the episode), she mentioned the body-positive aspect of visiting select saunas, as some offer a co-ed experience.
Note: Only visit a co-ed sauna if you are comfortable with the possibility of being nude in the presence of people you may, or not, know personally.
Vabali Spa – Seydlitzstraße 6, 10557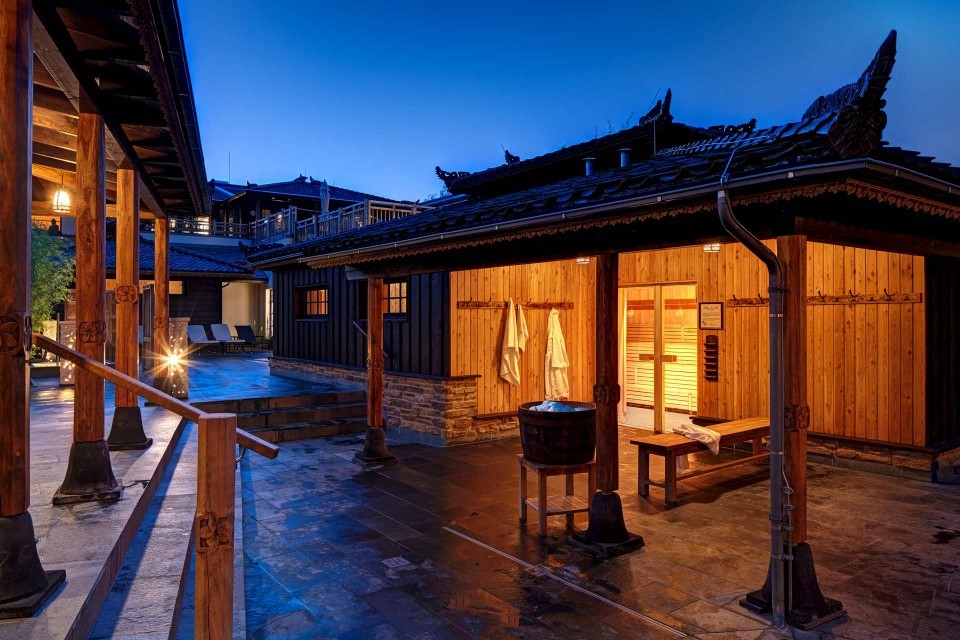 Vabali offers different environments to suit your tastes:
Pandangan | Panorama Sauna – A green oasis and escape into the Asian lifestyle.
Beji | Garden Sauna – Dry air sauna with tiered benches that allow for a customized choice of air temperature.
Banja | Russian Style – A traditional steam bath or bath house scented with birch leaves.
Vabali Dalam | Indoor  Vanali Di Luar | Outdoor – Classic infusion saunas, including scents of honey or salt.
Mandi Kapur | Lanconium – Turkish bath encourages circulation that invigorates while purifying and stimulating the immune system.
SAUNAS – Fireside | Pools | Relaxation Rooms | New Roof Terrace |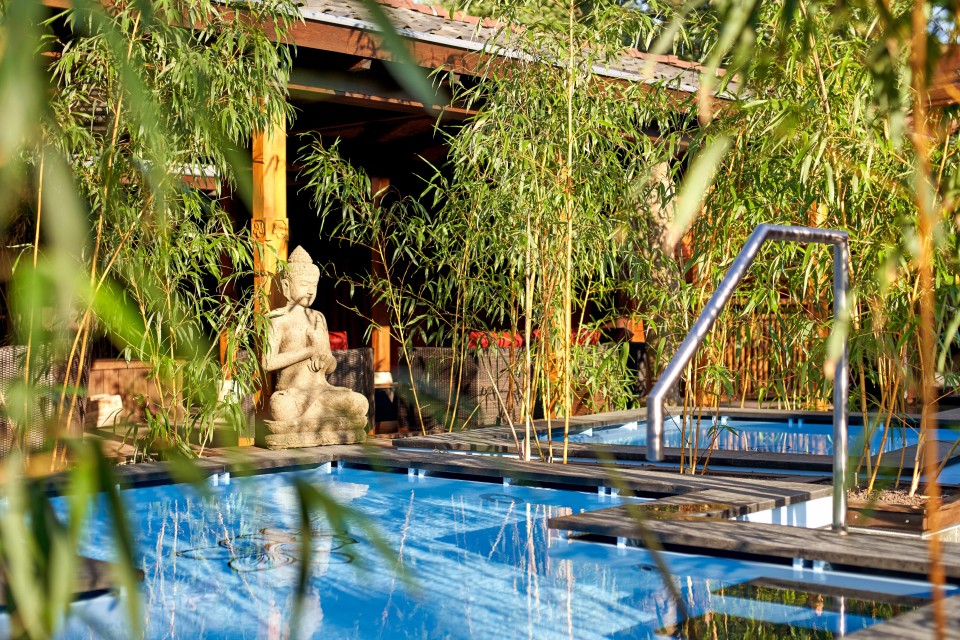 Fireside – Relax on a cold winter day by a warm fireplace.
Pool – Surround yourself with wood, pillars, Buddha figures, and Frangipani flowers in a 1.35m deep, 50 m² indoor pool lined with tiles that give a deep turquoise tone to the 85°F water.
Relaxation Rooms – Relax with a good book or sleep in one of the numerous relaxation rooms that are equipped with heated waterbeds and with a unique color palette.
Roof Terrace – A newly created area where you have the choice of enjoying their new Vabali Awan, an infusion sauna, or the two new hot water pools that are surrounded by bamboo.
Liquidrom – Möckernstraße 10, 10963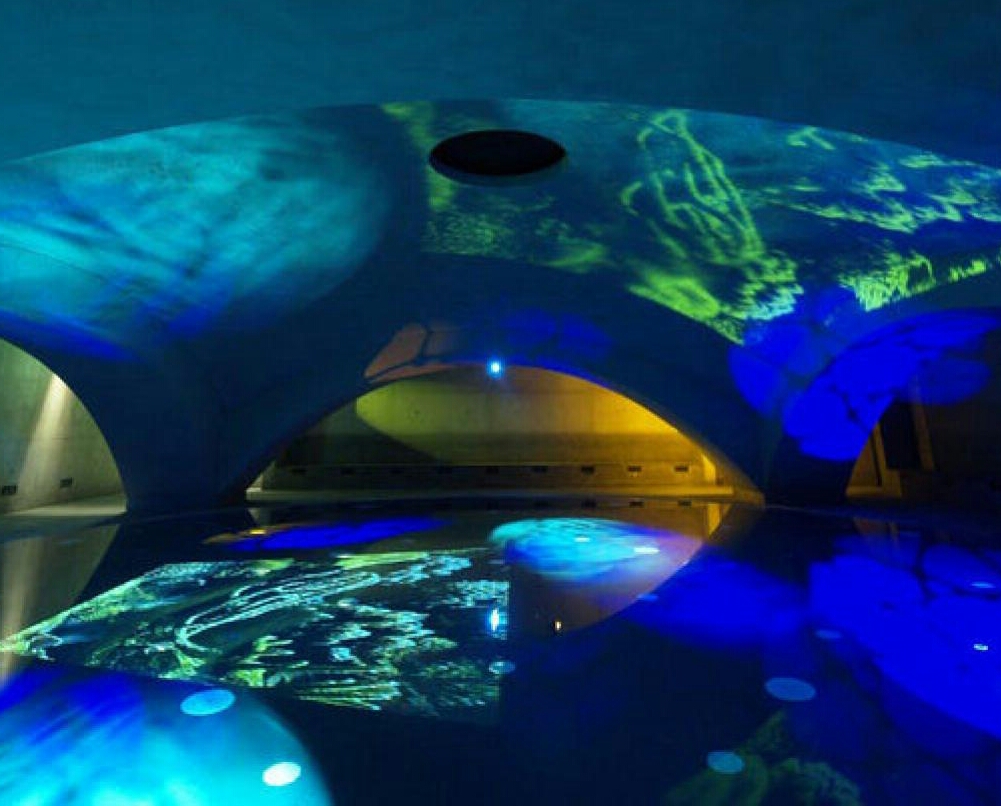 The Liquidrom has four nude saunas housed in a particularly unique architectural space inspired by a circus tent. A special and appealing feature is the in-pool underwater listening of classical or electronic music playing.
The Saunas
Steam Bath
The temperature in the steam bath ranges from 40°–45°C, while the humidity can reach 100%, which has a cleansing effect on the respiratory tract.
Finnish
Their largest and hottest offering is the special infused Finnish sauna.
Himalaya Salt
Breathe in the crystal energized air in this sauna with one wall lined with illuminated Himalayan salt crystals.
Kelo Panorama
A classic sauna wood of the Kelo Pine of Finland.
---
Best Time to Visit Berlin
---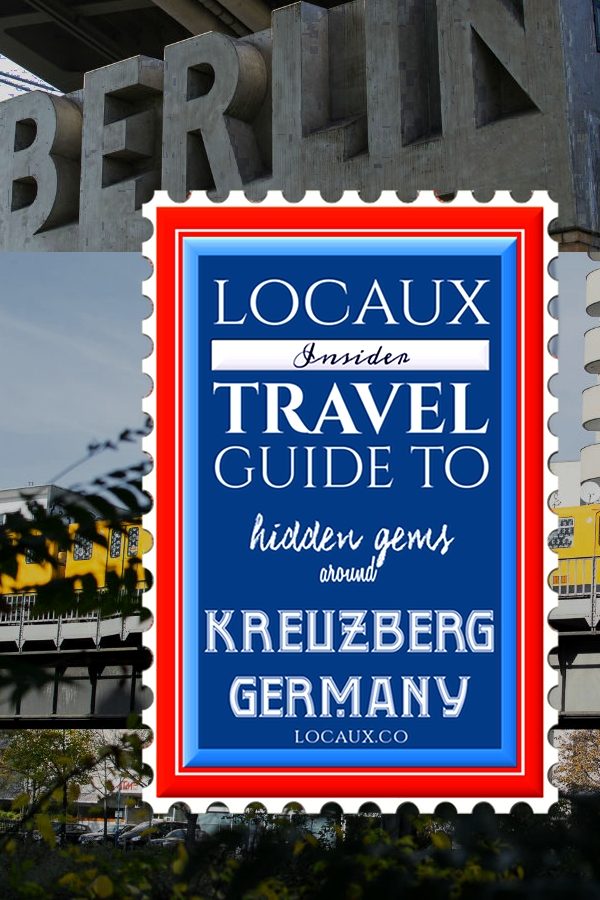 Summer is lively, with everyone spending their days hanging out at beer gardens, lakes, flea markets, and outdoor movies. Though if you visit in Winter, is great for festive traditional Christmas Markets, indoor saunas, and art collections.
---
About The Insider
Julie Comfort is an American photographer, writer, mom and Editor-in-Chief of Rabbel Magazine. She and her daughters reside Berlin, Germany.
Together, they are Rabbel With A Cause.
---
More from Locaux!

 
Discover & bookmark walking tours in the Walk It! Locaux – Amsterdam Series and others here:
---
Listen to Locaux!, The Podcast. We're celebrating the stories of phenomenally unconventional single women entrepreneurs who have followed a strong pull to upsticks from their country of origin, unearth a patch of land and plants seeds where their soul feels most at home.
They are well-traveled women who have found clever ways to move countries and you can too!
So, join us, as we travel through the their minds of those who have dard greatly, giving into their obsessions and actually live, abroad.
If you have a story, let us know!
We look forward to sharing the stories of fab women like you. So yah, get in touch here to have your story, or that of another awesome woman featured on the show.
And while you're there, subscribe to get the latest podcast.
---
Join The Collectifs!
Are you or someone you know a phenomenally unconventional woman entrepreneur that is now an expat? If so, submit to Locaux! The Podcast.
---
Discover hidden city gems perusing our insider guides. The women in our Locaux + Collectifs share local's perspective on who, what and where when visiting cities around the world!
Also, check the latest walking tour in the Walk It! Locaux series.
---
Guest Contributors are Welcomed
If you have intimate knowledge of a city, becomes a contributor! 
---
Locaux in your inbox.