---
Eat, drink and play around in the most populous city in Canada's Québec province named after Mt. Royal, the triple-peaked hill at its heart: Montreal.

Click & Tweet!
---

---
In this Locaux Insider's Travel Guide to Montréal, Locaux Insider Tania Fox, shares everything a visitor may want to add to their list of things to do; ranging from a great cup of coffee at local café to must visit sights like Gothic Revival Notre-Dame Basilica at its center.
Listen to her story  A Fox in Montreal.
---
---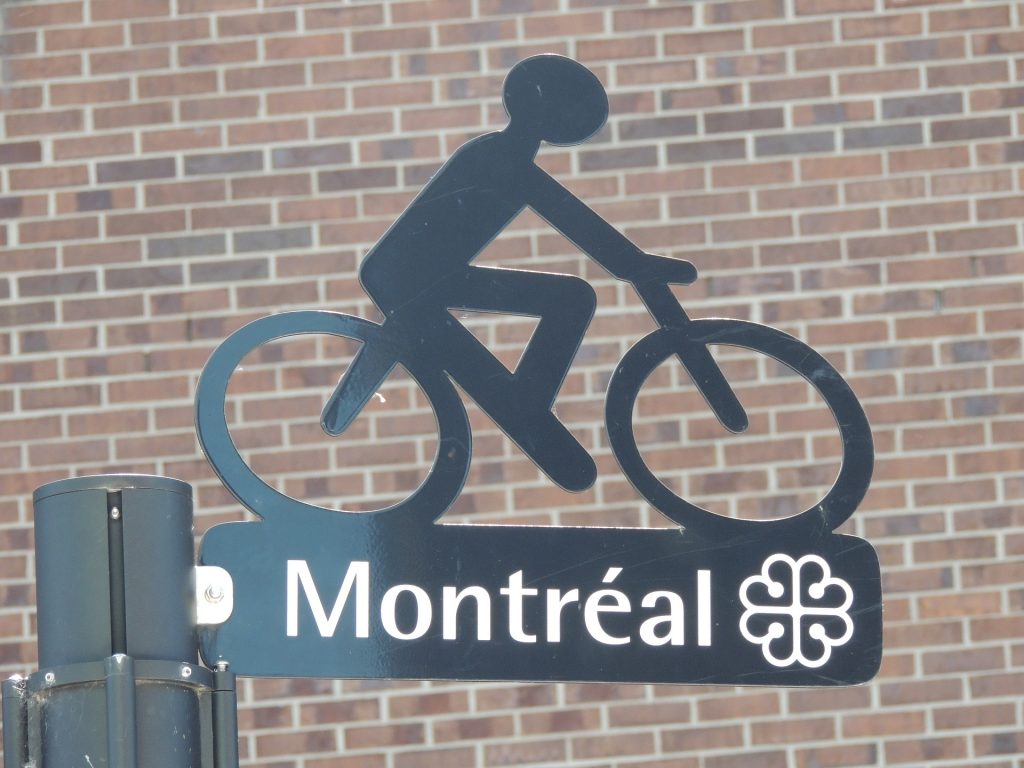 ---
---
Locaux

Insider Must See Do

Travel Guide To Montréal
Eats and Drinks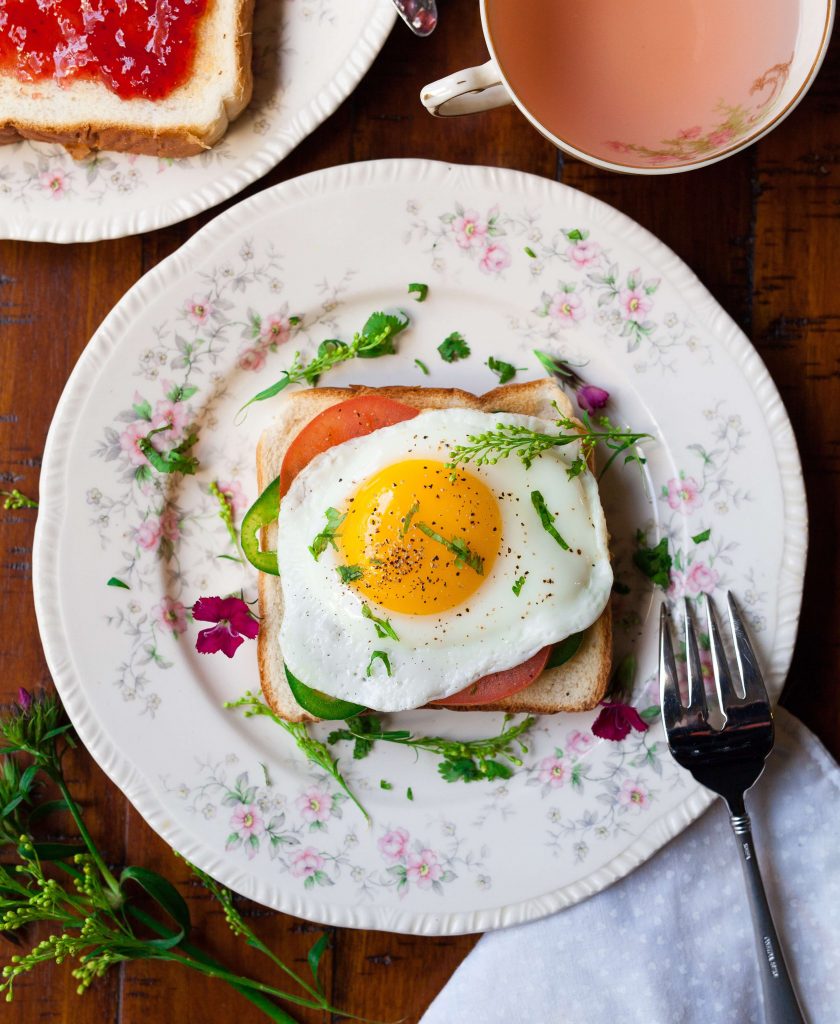 Have you ever heard the story of the bagel war between Montreal and New York?
Our Locaux Insider gave us the scoop, and says the best quick go to sandwich is the ubiquitous bebete du bœuf. She even shares a tip on two great dive bars that serve up some decent drunk food.
Let's dive in!
Un café s'il vous plait.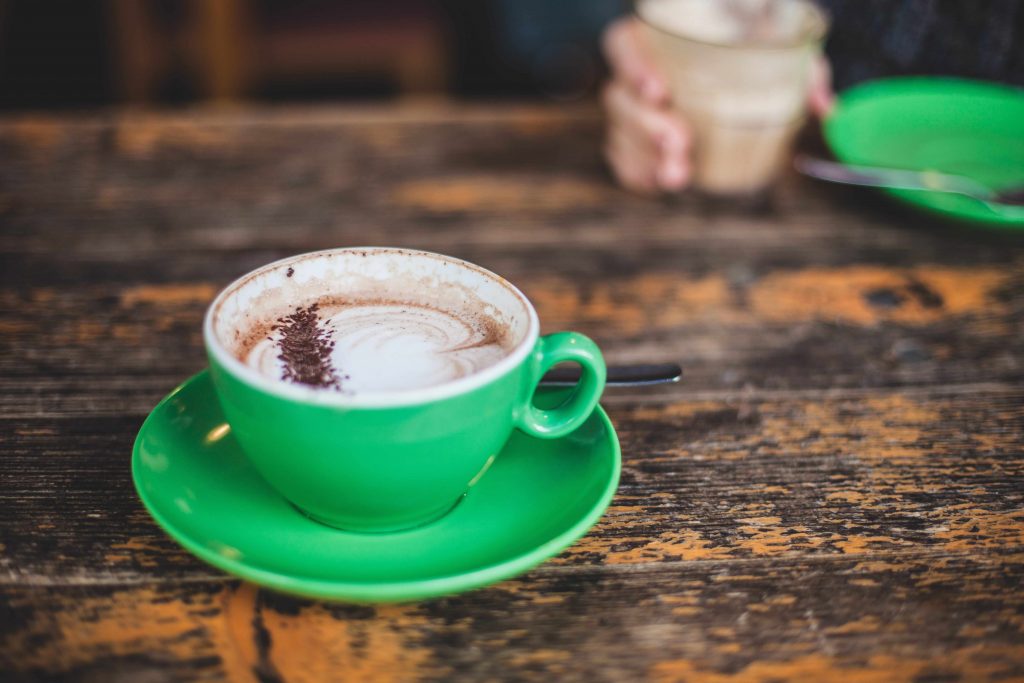 For a great coffee and light breakfast or lunch: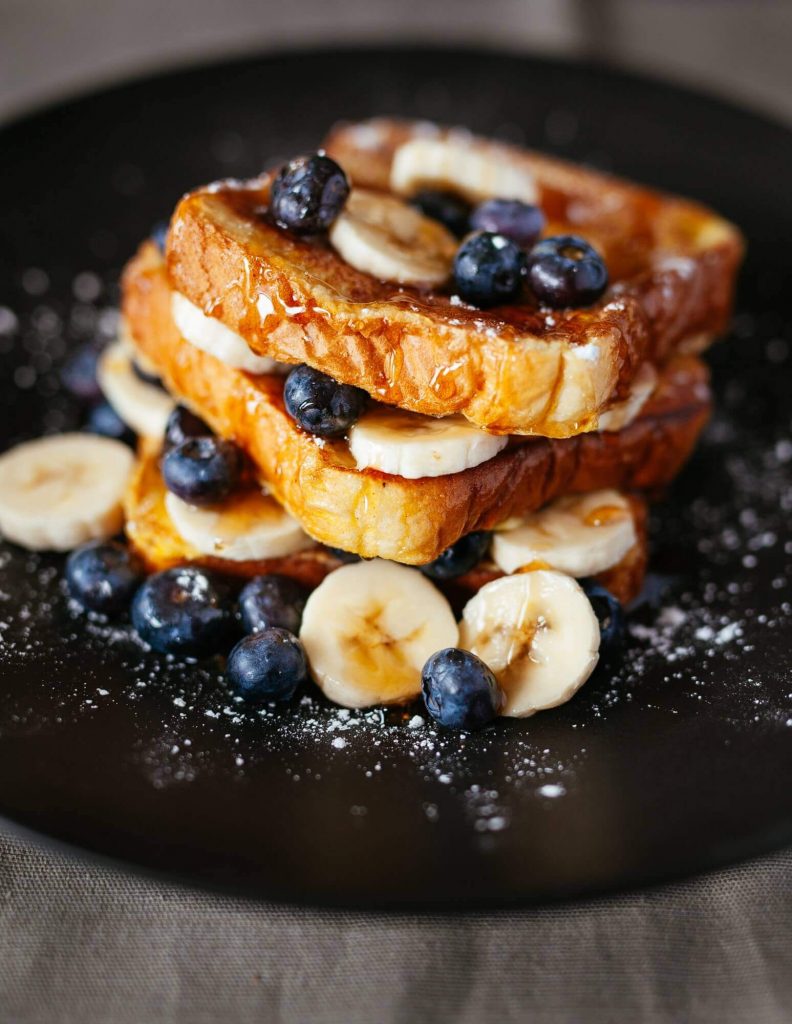 Laid back meeting for grabbing a cup of artisanal coffee and a light breakfast or lunch.
Casual Dining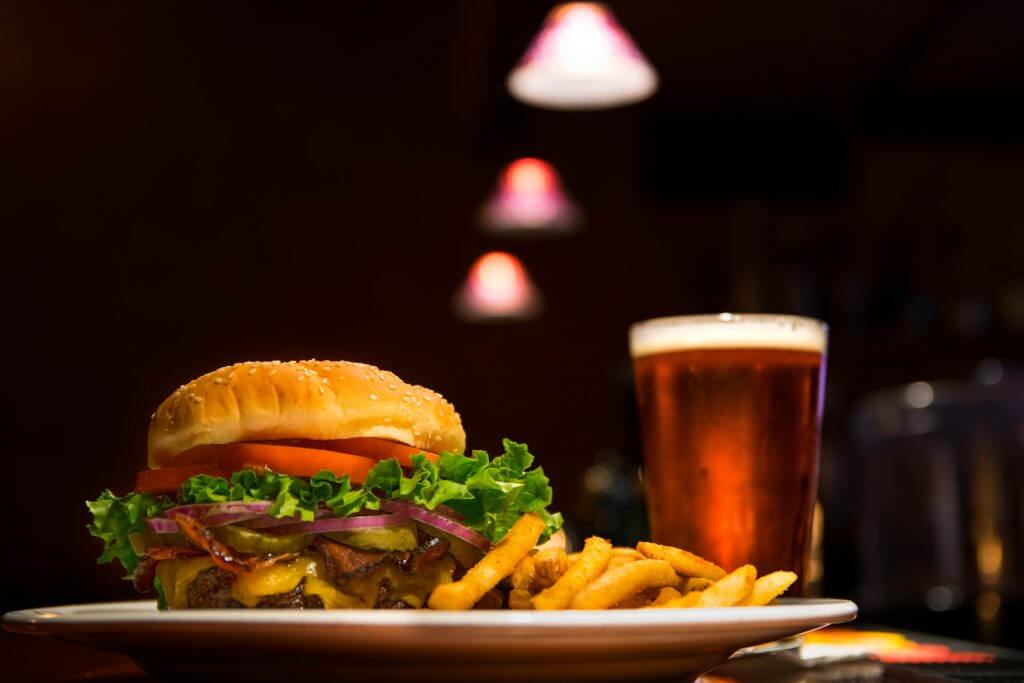 A place to connect with the locals. A great café for cheap eats and a buzz. A music venue for for indie bands, DJs and spoken word. The menu consists of great sandwiches and draft beer.
---
---
Upscale Dining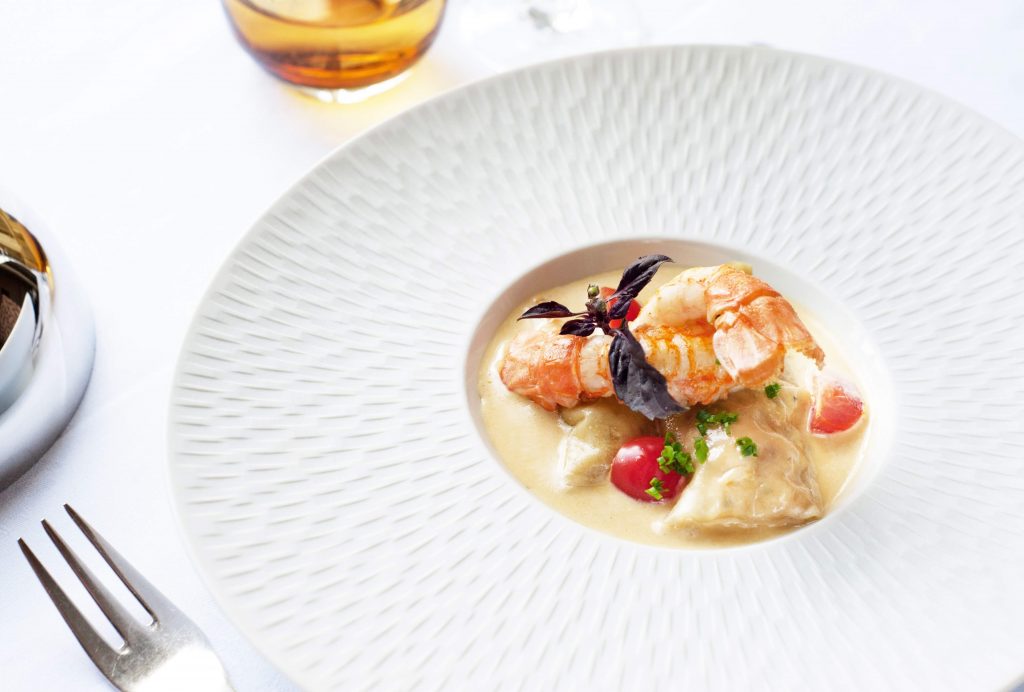 Have an an authentic French dining experience, with impeccable from professional servers in this iconic Parisian-style bistro serving up refined standards.
Vino, Cocktails and Ambiance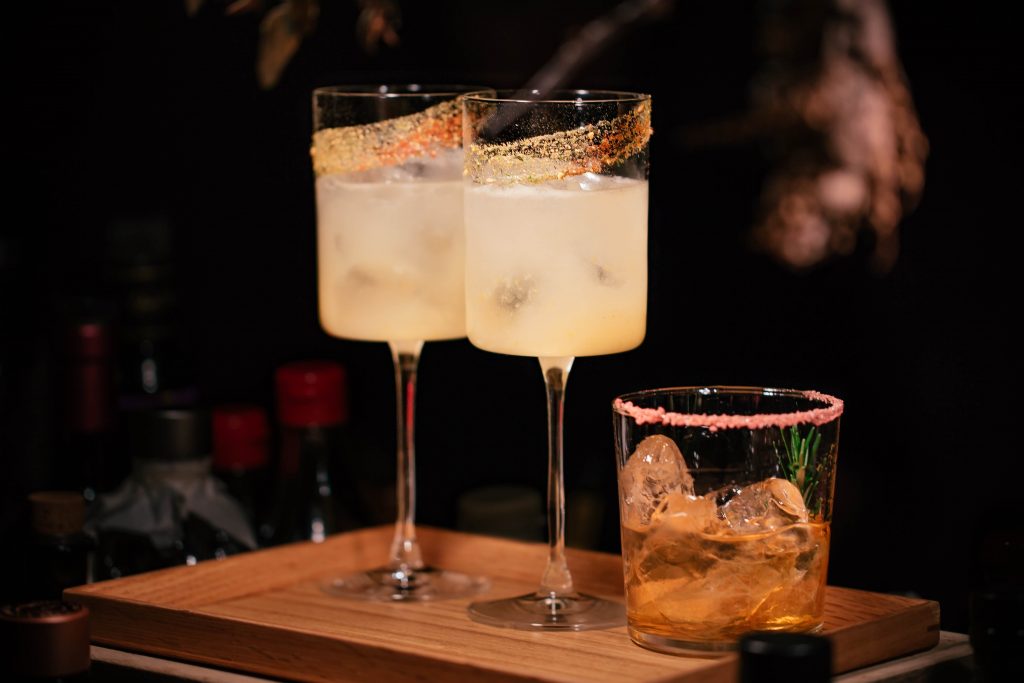 For wine or a great cocktail, have a seat on the outdoor patio of this "cozy-rustic wine bar…serving eclectic, farm fresh fare."
A Bit Of Shopping? Yes?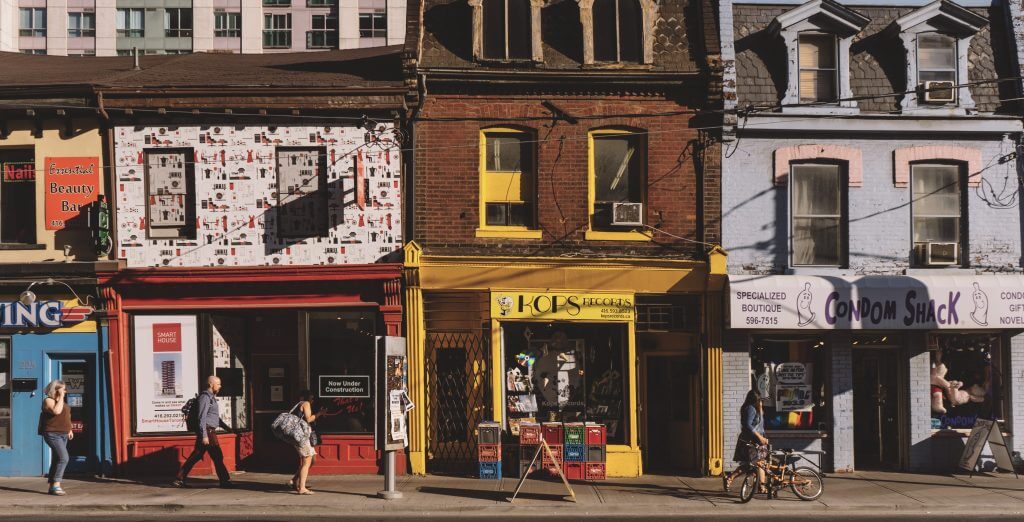 ---
Hyper Local Markets
---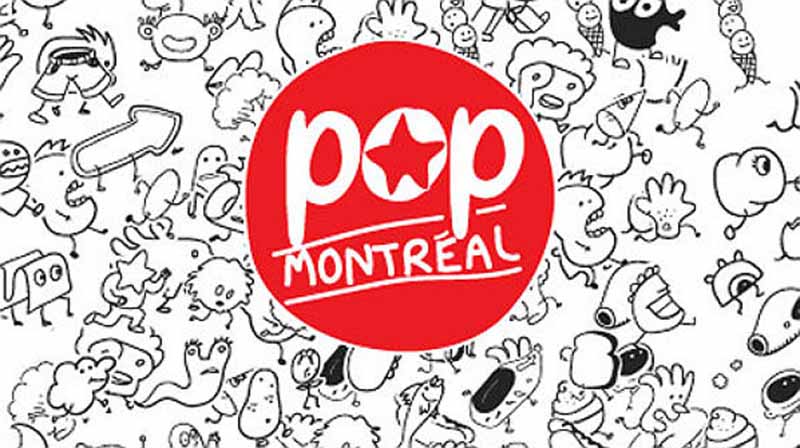 ---

Pop Montreal's Flea Market for local designers. This market happens three times a year. It was developed in 2004 to bring Montreal's designers, artists and crafters together in one. marketplace.
An annual high-end technological art market.
Vintage clothing and accessories for men and women. Some items are made by artist using recycled and organic materials.
An in house clothing studio for women, designed by Yasmine Wasfy.
---
---
Know The Happenings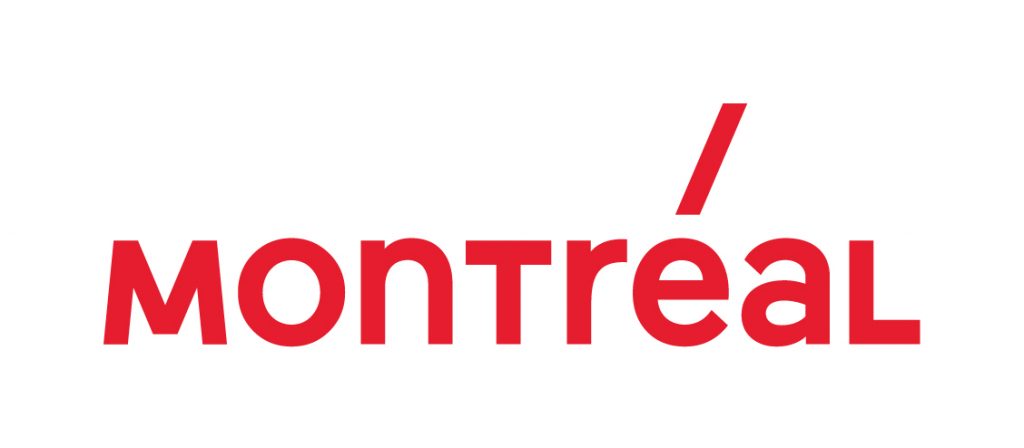 To tap in to a real local experience, follow Tourisme Montréal, as a general rule. Read Baron, and online magazine for lists of anything advertised to locals ranging from concerts, and vernissages.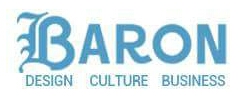 For The Culture
JazzFest – Festival International de Jazz de Montréal, an annual late summer festival.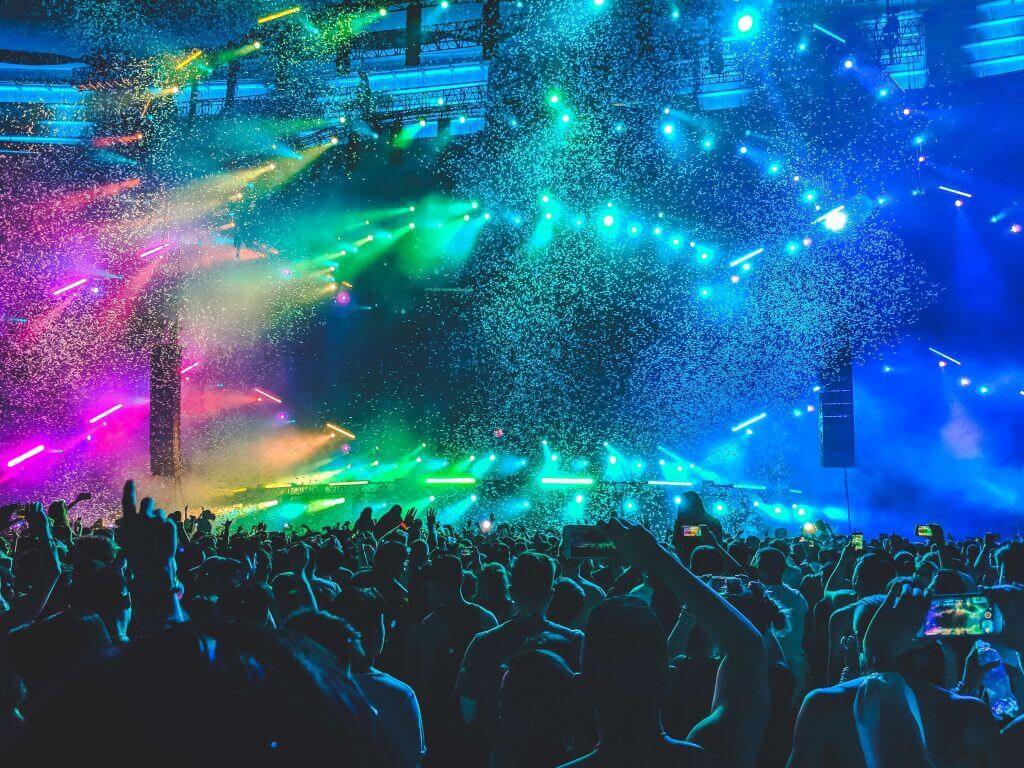 Les FrancoFolies de Montreal – a large annual music and performance festival in Downtown Montréal, Québec, with 1000s of French-language performers from all over the world, happening in summer.
Restaurant at the S.A.T art space for contemporary Canadian food.
---

---
Visit Basilique Notre-Dame de Montréal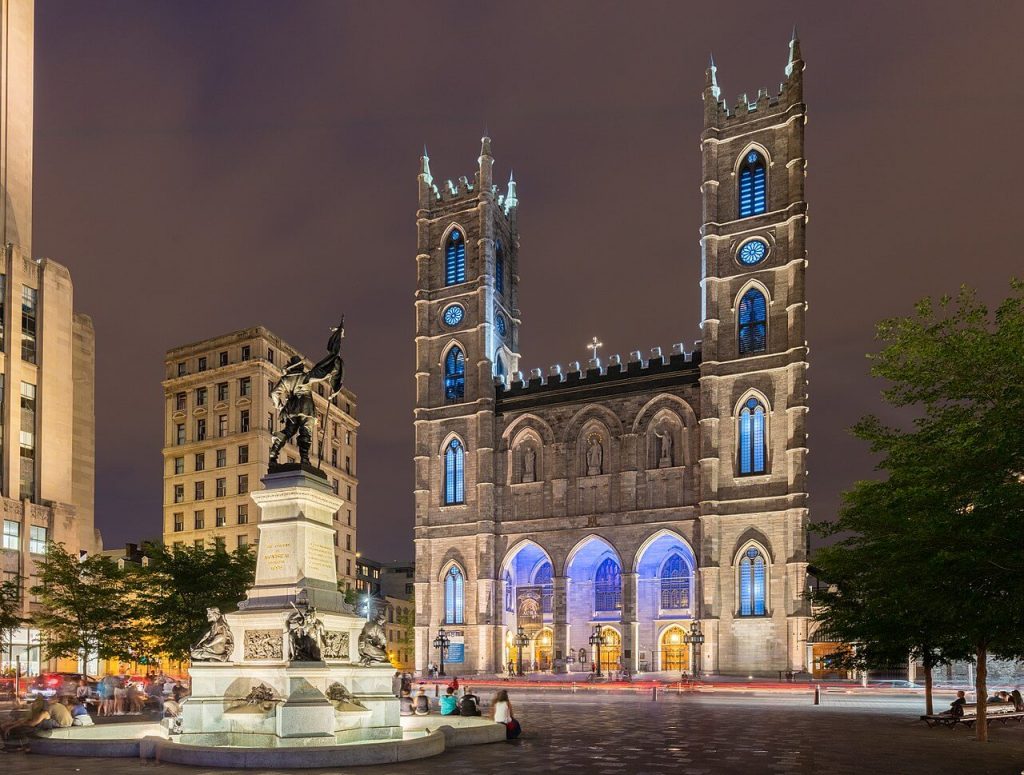 Basilique Notre-Dame de Montréal – 110 Notre-Dame St W, Montreal, QC H2Y 1T2
A basilica in the historic district of Old Montreal.
Built in the Gothic Revival style, the church is highly decorated. The vaults are coloured deep blue and decorated with golden stars, and the rest of the sanctuary is decorated in blues, azures, reds, purples, silver, and gold. It is filled with hundreds of intricate wooden carvings and several religious statues. Unusual for a church, the stained glass windows along the walls of the sanctuary do not depict biblical scenes, but rather scenes from the religious history of Montreal. It also has a Casavant Frères pipe organ, dated 1891, which comprises four keyboards, 92 stopsusing electropneumatic action and an adjustable combination system, 7000 individual pipes and a pedal board.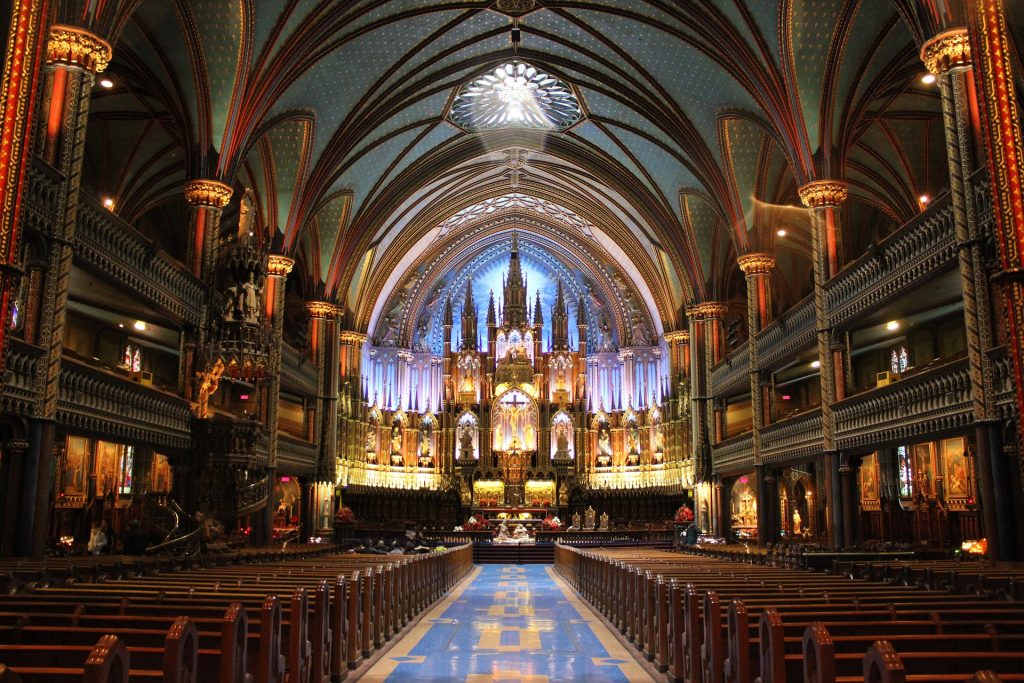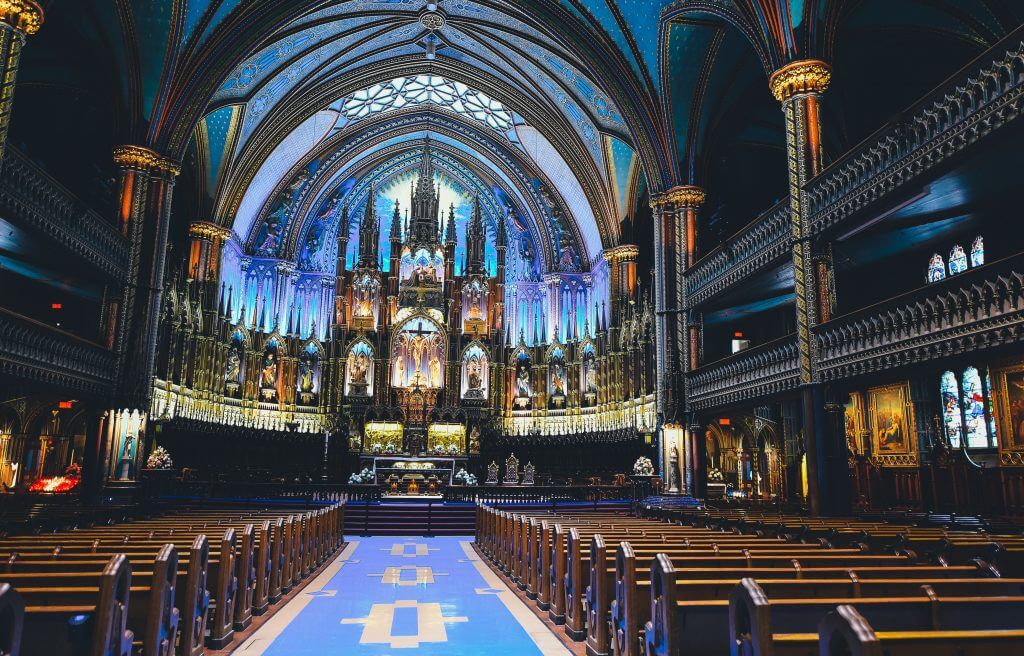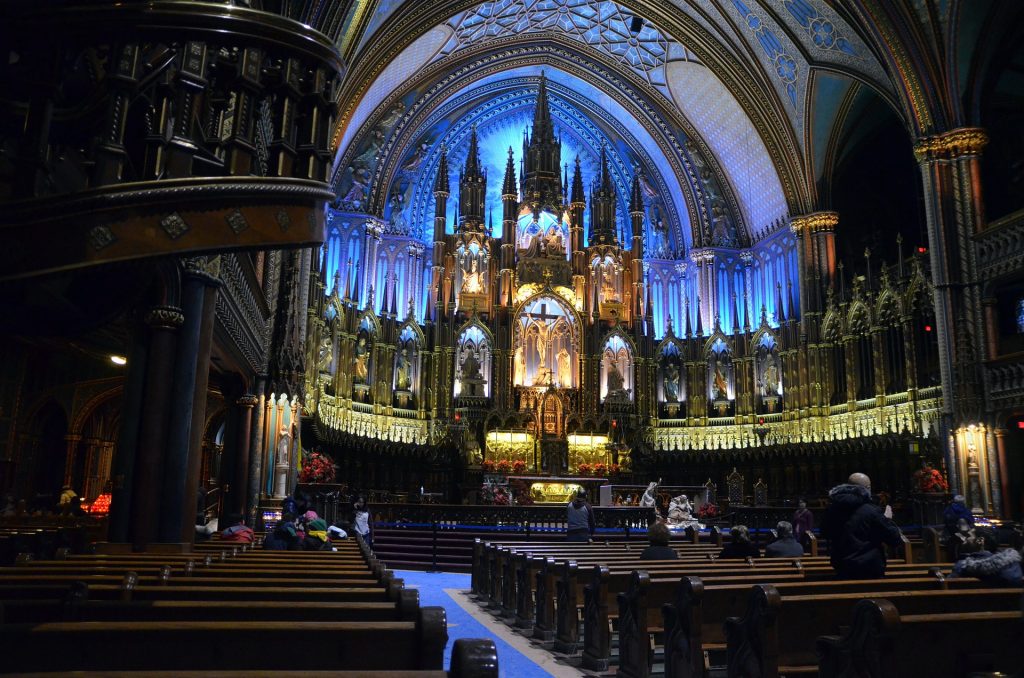 In 1657, the Roman Catholic Sulpician syndicate arrived in Ville-Marie, now known as Montreal; six years later the seigneury of the island was vested in them. They ruled until 1840. The parish they founded was dedicated to the Holy Name of Mary, and the parish church of Notre-Dame was built on the site in 1672.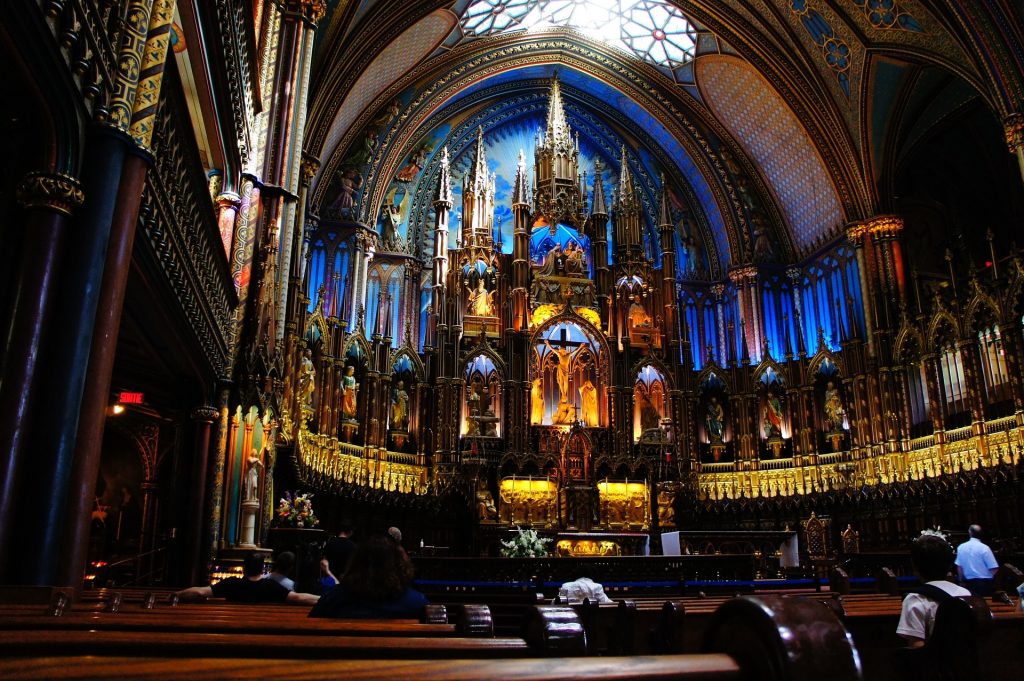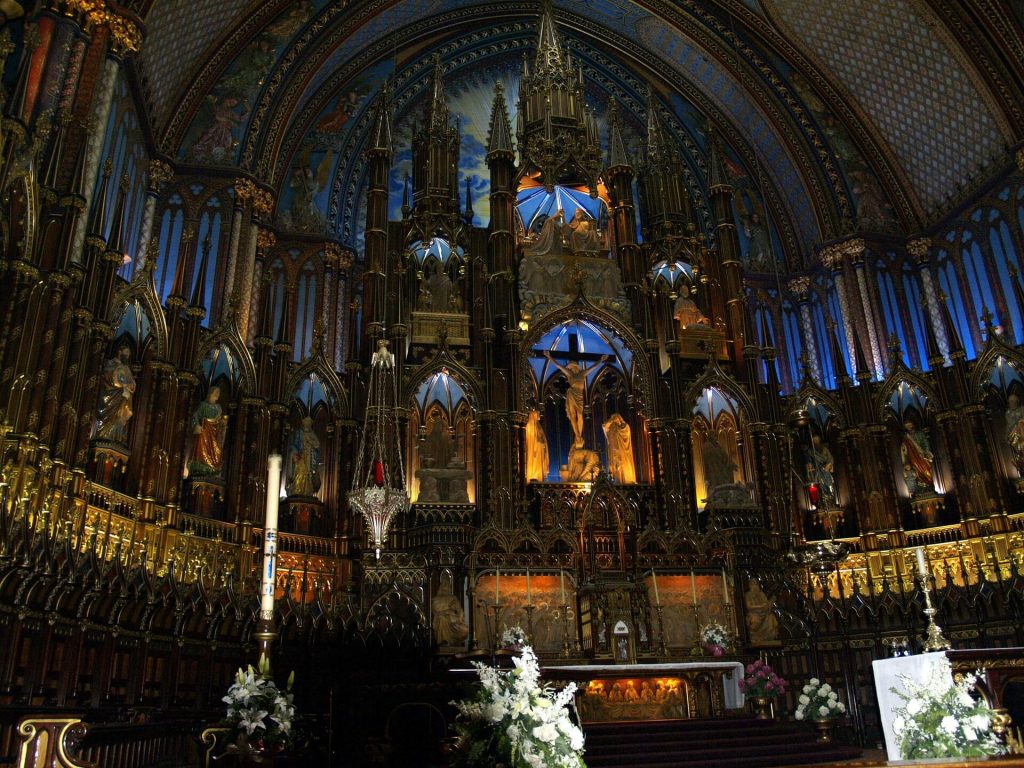 François Baillairgé, an architect, designed the interior decoration and choir 1785-95; facade & vault decoration, 1818.
The church served as the first cathedral of the Diocese of Montreal from 1821 to 1822.
By 1824 the congregation had completely outgrown the church, and James O'Donnell, an Irish-American Anglican  from New York City, was commissioned to design the new building. O'Donnell was a proponent of the Gothic Revival architectural movement, and designed the church as such. He is the only person buried in the church's crypt. O'Donnell converted to Roman Catholicism on his deathbed perhaps due to the realization that he might not be allowed to be buried in his church. [1]
---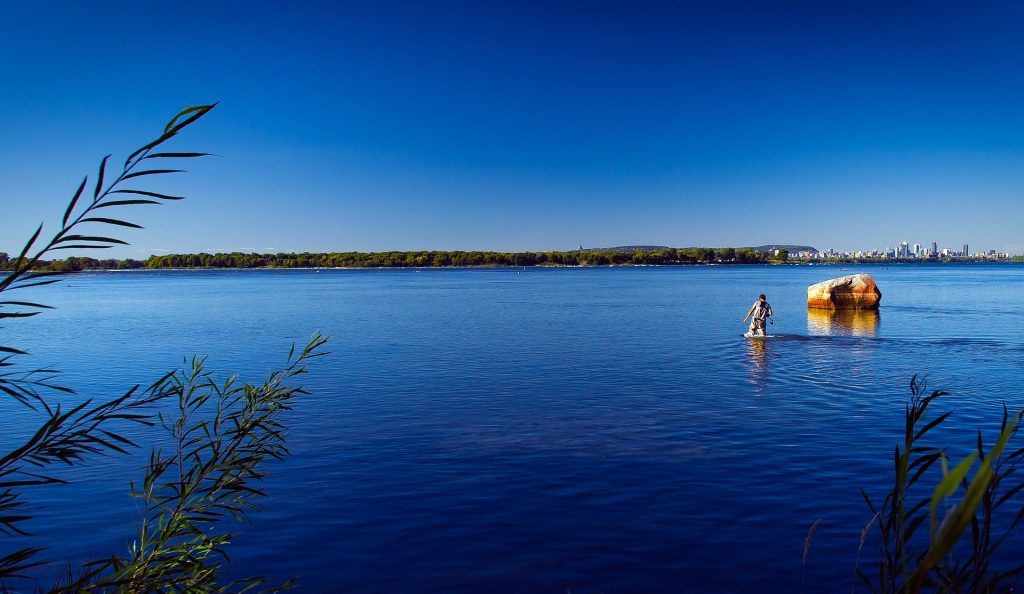 ---
Best Time To Visit
Summer is lively, with everyone spending their days outdoors.
---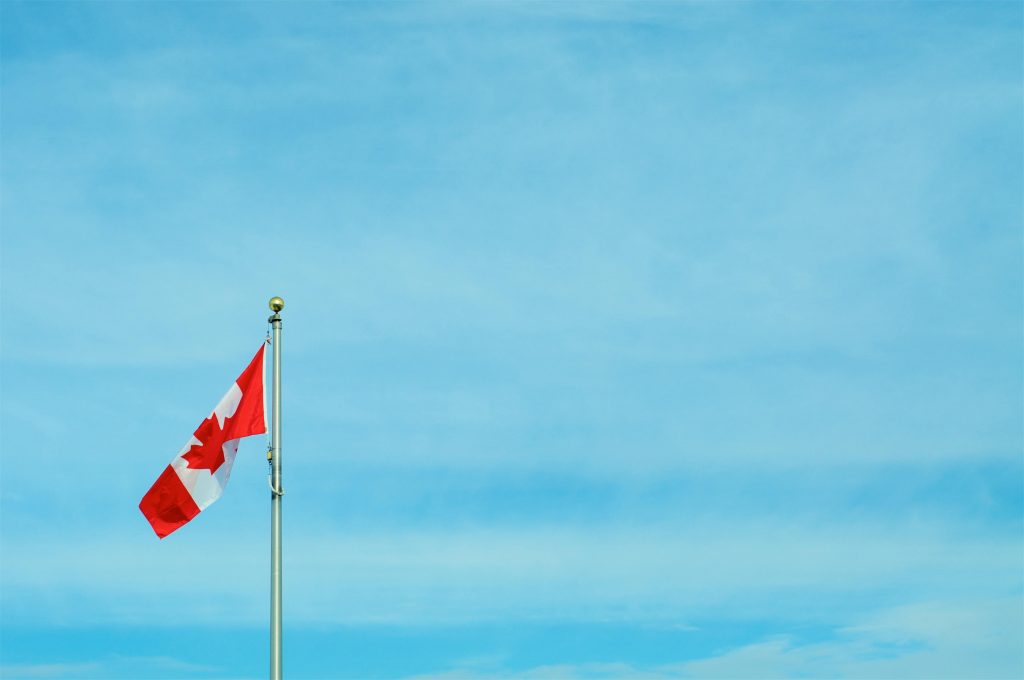 ---
---
About The Insider
Our favorite business mentor Tania Fox, is an American residing in Montreal, Canada.
She is the business Fox In Montreal.
---
More from Locaux!
Discover & bookmark other walking tours in the Walk It! Locaux – Amsterdam Series and others here:
---
Remember to tune into Locaux!, The Podcast. We're celebrating the stories of phenomenally unconventional single women have followed a strong pull to upsticks from their country of origin, unearth a patch of land and plants seeds where their soul feels most at home.
They are well-traveled women who have found clever ways to move countries and you can too!
So, join us, as we travel through the their minds of those who have dared  greatly, giving into their obsessions and actually live, abroad.
If you have a story, let us know!
We look forward to sharing the stories of fab women like you. So yah, get in touch here to have your story, or that of another awesome woman featured on the show.
And while you're there, subscribe to get the latest podcast.
---
---
Discover hidden city gems perusing our insider guides. The women in our Locaux + Collectifs share local's perspective on who, what and where when visiting cities around the world!
---
Guest Contributors are Welcomed
If you have intimate knowledge of a city, become a contributor! 
---
Are you or someone you know a phenomenally unconventional woman that is now an expat? If so, submit to Locaux! The Podcast.
---
Locaux in your inbox.