---

---
Affordable Luxury | Movie Lounge | Living Lobby | Business Center | Open Kitchen
---
Enjoy comfort in a communal gathering place for adventurers, big city travelers and business packers, at the best luxury hostel for business travelers in Rotterdam.

Click & Tweet!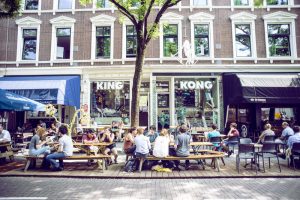 Positioned within the heart of "The Cool District" of Witte de Withstraat, and few minutes walk from Rotterdam Central Station is the King Kong Hostel. This hostel is known for its chill atmosphere. It's ideal for first time hostel explorers and the experienced backpacker alike, or if you're budget conscious but have moved beyond the point of to rough it.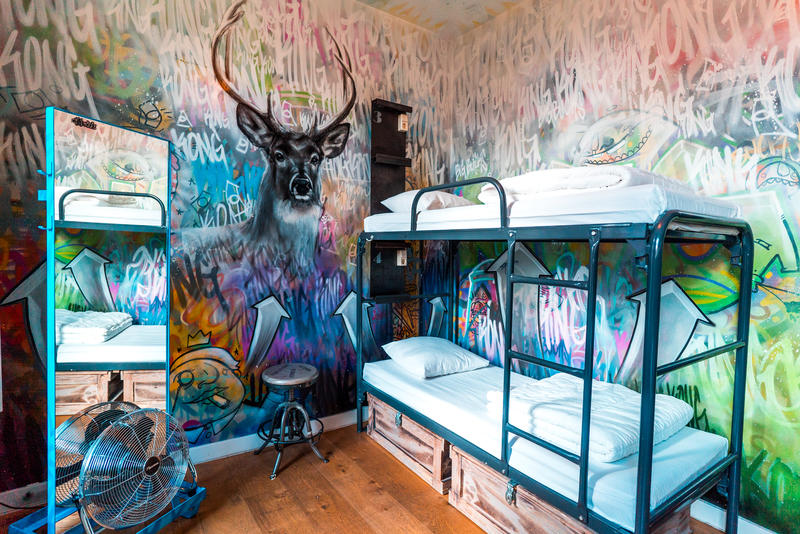 It is composed of guest rooms that vary from dormitory style with bunk beds range form basic, to luxury with en-suite bathrooms. There too are intimate spaces as the Lover's Loft; you know, for lovers. Most rooms have a private rain shower.
With wooden floor and large windows throughout, the open stress-reducing design is ideal for relaxing after an active day.
---
---
If you're the type that likes to prepare meals, this hostel also boasts an open-space kitchen.
Ready to make a successful go at embarrassing yourself, among friends new and old, while getting the party started? Yes? Okay. There's good news and bad news: the Karaoke machines await you at King Kong Hostel.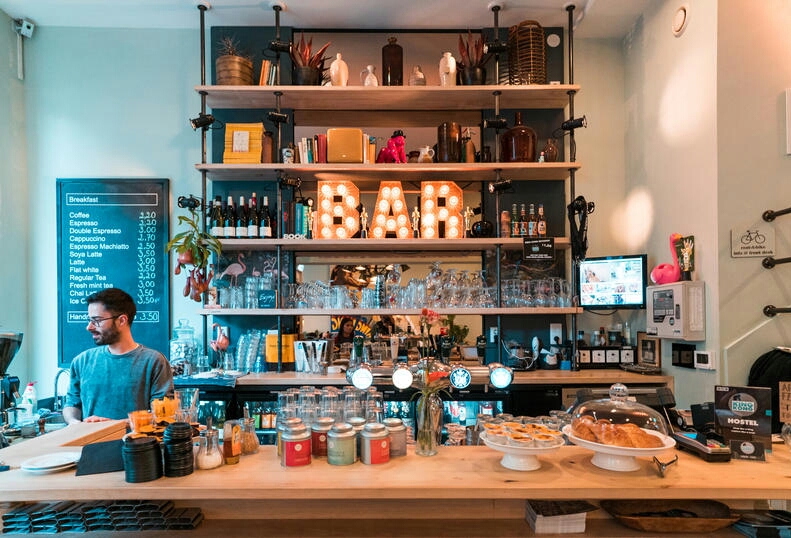 Additional amenities include: a "hangover basement", complete with movie theatre where you can Netflix and chill. Free popcorn included … Nom Nom Nom.
---
Guest Dormitories for Adventure Travelers
---
Medium Dorm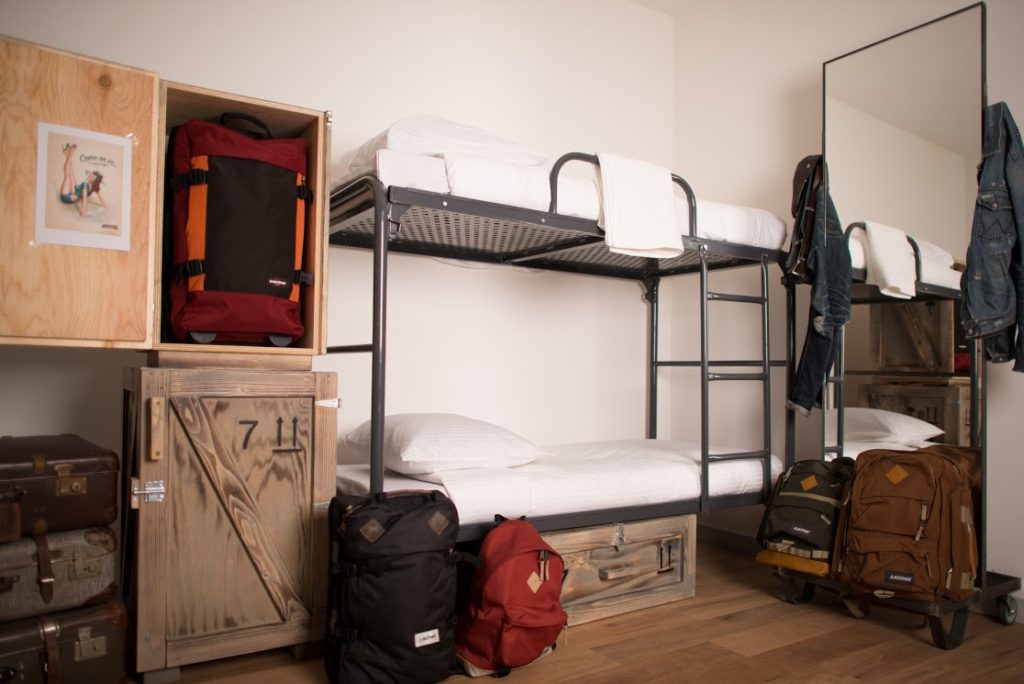 This dorm is deal for budget conscious travelers set to stay for a weekend, and who appreciates a bit of privacy. It is also suitable for a first-timer to experience a hostel stay.
Includes: Bunk beds with comfortable mattresses • High quality linen and towel  • Personal bedside light & power outlet • A private locker with charging capability • En-suite Bathroom with a hairdryer • Full length mirror • Up to six people in this room  • Free Wi-Fi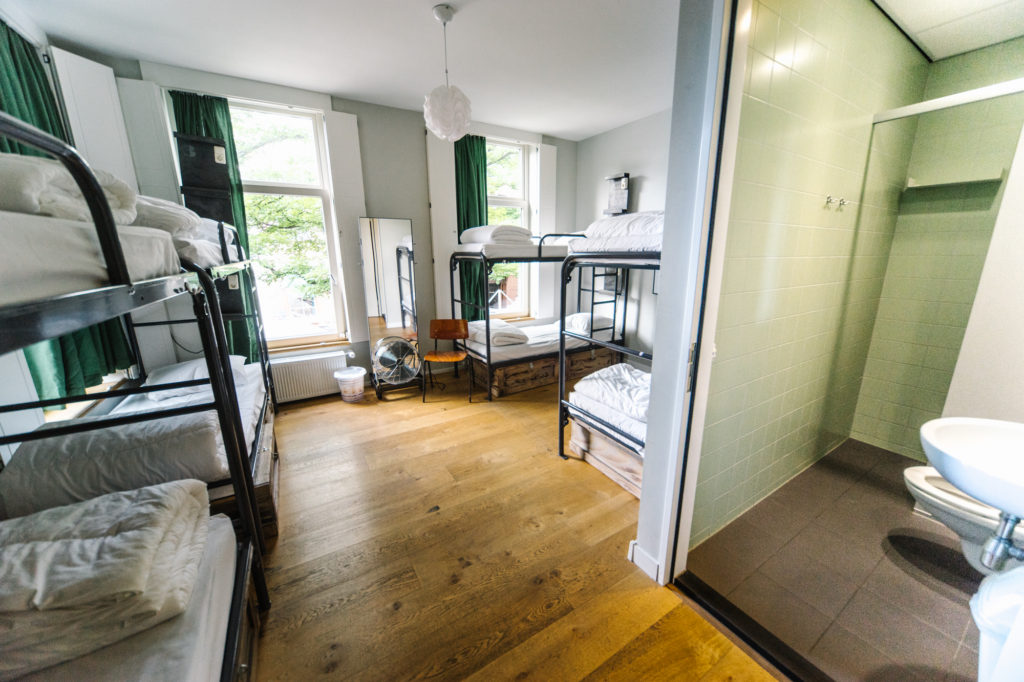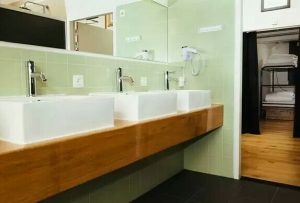 Includes: Bunk beds with comfortable mattresses • High quality linen and towel • Personal bedside light & power outlet • A private locker with charging capability • En-suite Bathroom with a hairdryer • Full length mirror • Up to eight (8) people in this room • Free Wi-Fi
---
Luxury Female Dorm
Quality craftsmanship and luxury are displayed with each bed. They come with an enclosure made of silky curtains for privacy.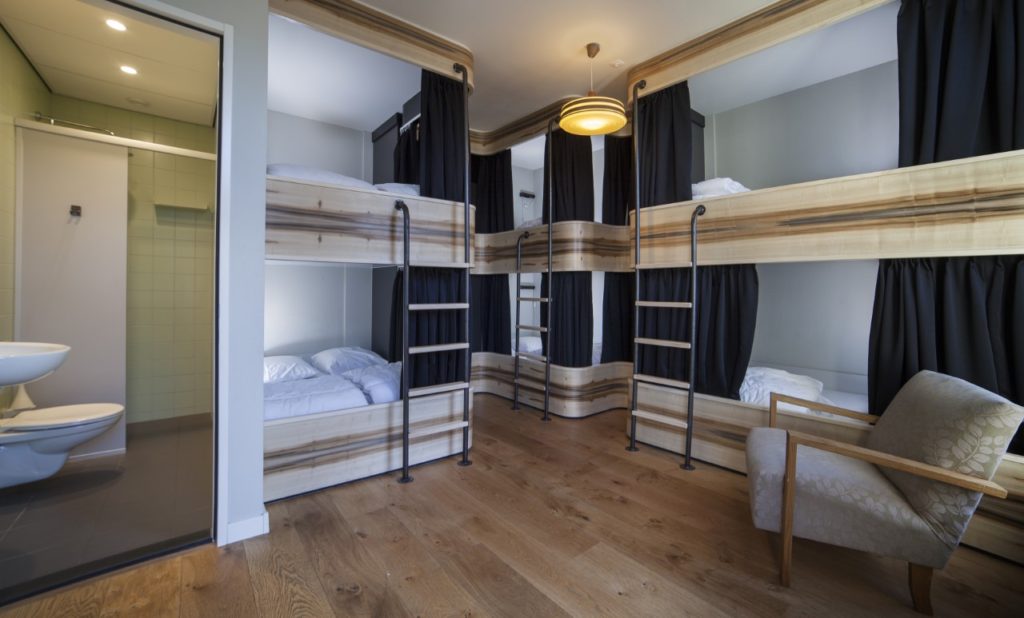 Includes: Six (6) Queen-size Bunk beds, complete with comfortable mattresses • High quality linen and towel • Personal bedside light & power outlet • En-suite bathroom
This shared dormitory display quality craftsmanship and luxury, with handmade queen-sized bunk beds.
For a bit of privacy, each bed has a silky curtain that creates a sense of privacy.
---
Dorms range from four, eight and sixteen beds.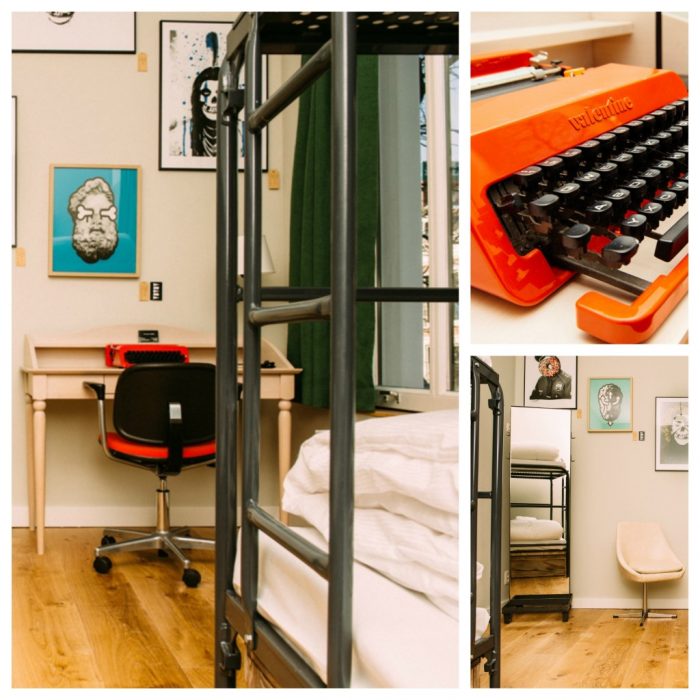 Includes:  Bunk bed  or double bed in a dormitory, high quality linen and towel • Personal bedside light & power outlet • A private locker with charging capability • Shared Bathroom with hairdryer (separated for ladies and gentlemen) • Full length mirror • Free WiFi
---
The commone area is located on  the third floor. It's decorated in an "old school" motif, with retro gym equipment and photographs depicting sport themes.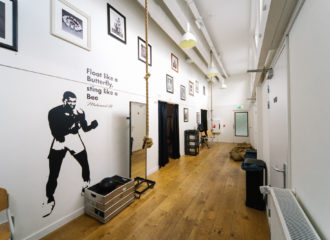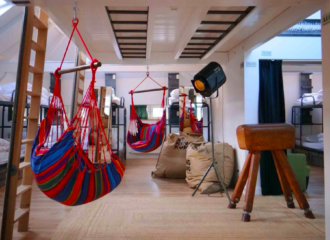 The low-cost option accommodations are adjacent to this area. They are four open and stylish dormitories, ideal for budget conscious travelers that like to meet like-minded travelers. The open floor plan includes silky curtains standing-in as doors to entryways, shared bathrooms located across the hall, separated by ladies and gents respectively.
---
---
Featured Room for Big City Travelers 
---
Full House
Though not literally, well, unless you travel with your own, roll the dice with this room.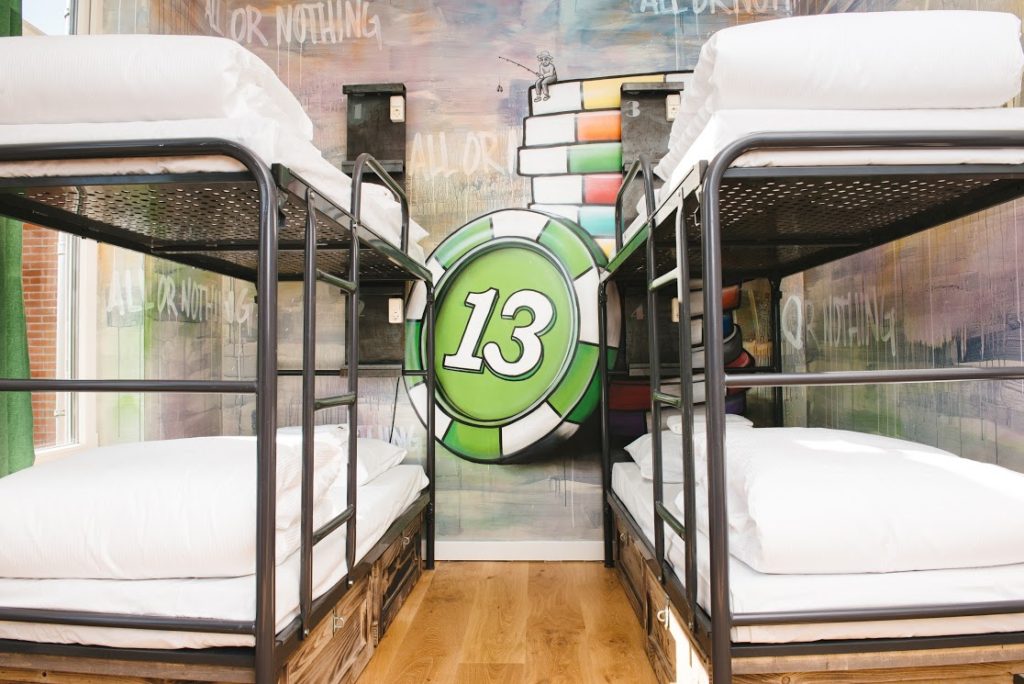 But no worries. It's named for the illegal casino that previously housed in the building.
There's no shady dealing in the dark here. Only bunk beds with comfy mattresses, a small living area, record player and mini fridge.  If you're traveling with a group of friends, this room is perfect landing pad after a night of debaucherous shenanigans.
This private is a four-person design. So it's great for two couples, girl's or boy's gang trip only.  If you're on traveling with your crew, stick to the rules. Don't be the friend who brings your hook-up back to the group space. Don't be THAT friend. Handle that at their place or some random corner, or elevator. HA!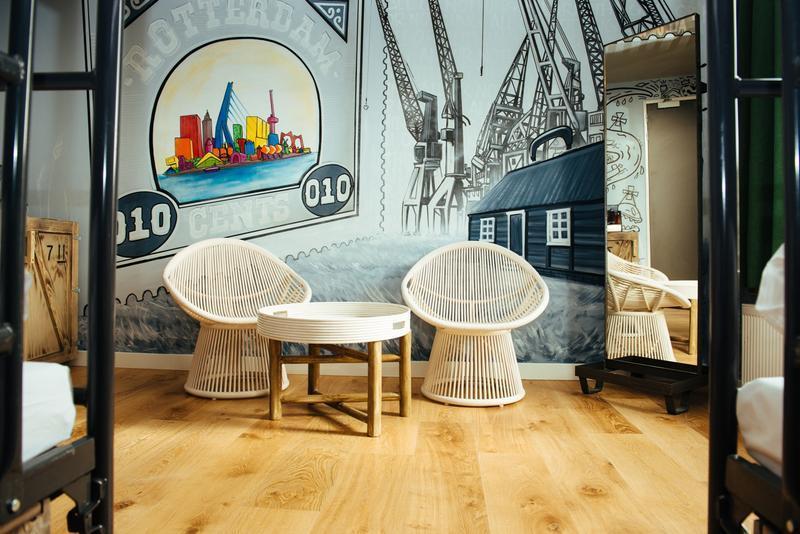 Includes: Bunk beds with comfortable mattresses • High quality linen • Personal Bedside Light & power outlet • Mini Fridge • En-Suite Bathroom & Hair Dryer • Free Wi-Fi • A Private Locker with Charging Capability
---
Private Rooms in the Best Luxury Hostel for Business Travelers in Rotterdam
Kong Meis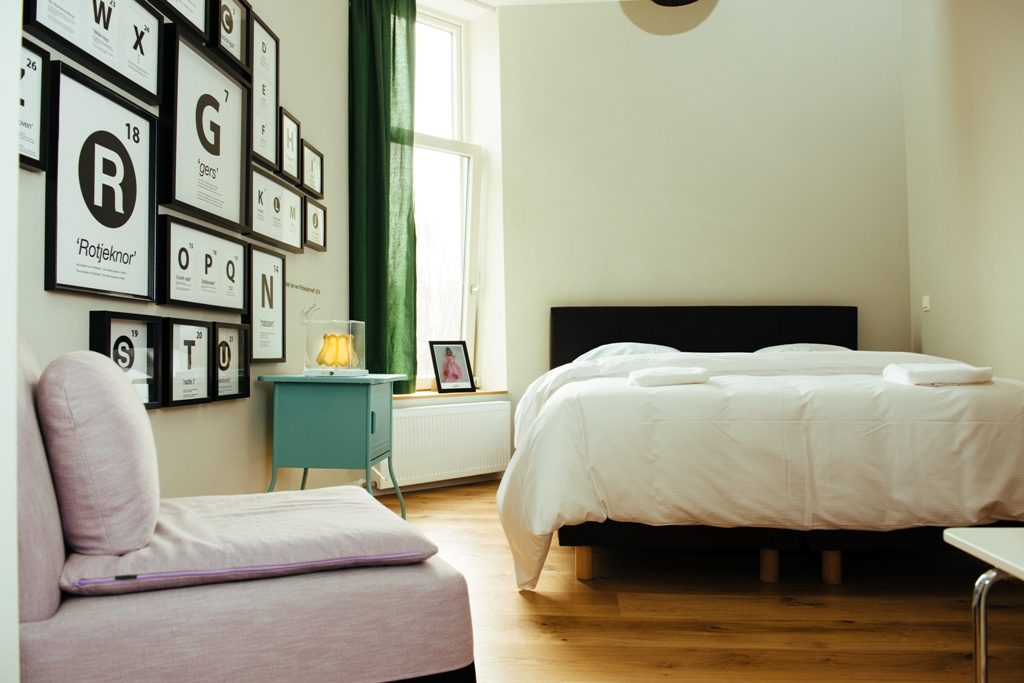 This tastefully styled private room is perfect for and adult seeking adult accommodations, music aficionados, couples or business-packers.
Named after the local artists duo Kong Meis.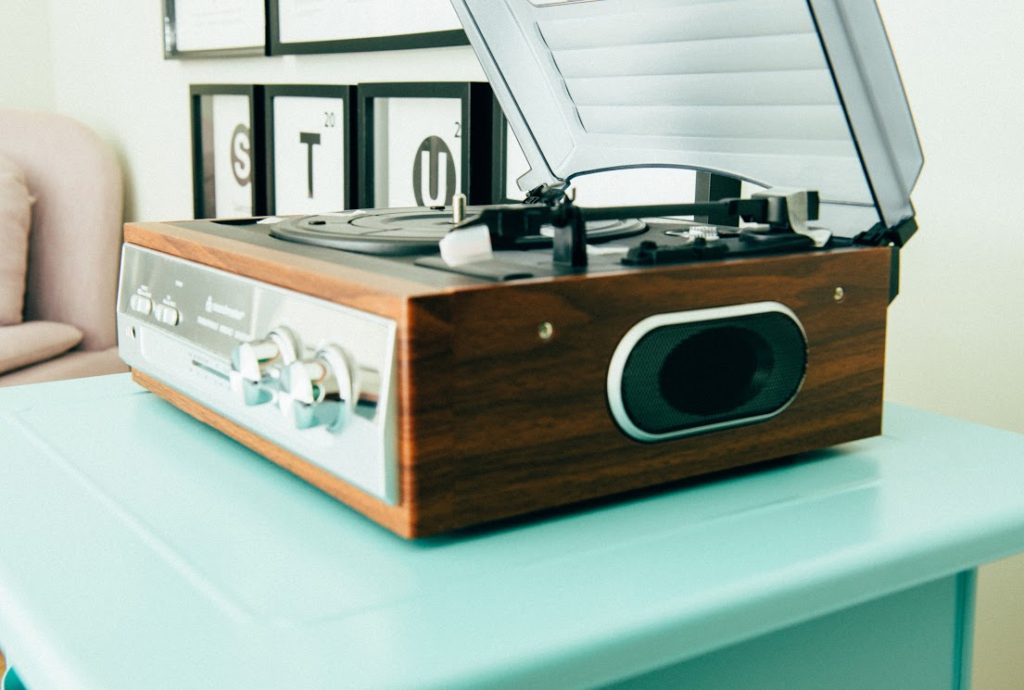 Features: King-Sized Bed • Seating Area • Flat screen TV • Netflix Subscription • Vintage Record Player. En-Suite Bathroom & Hair Dryer • Mini Fridge • Free Wi-Fi • Safe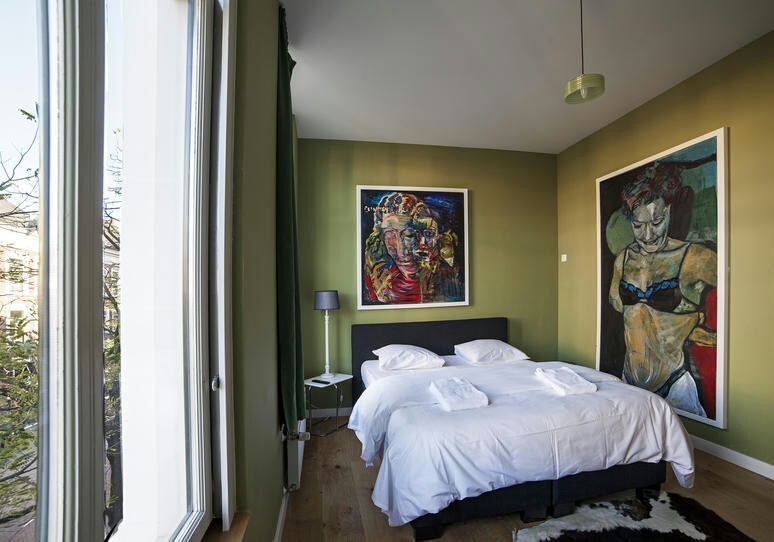 ---
Lover's Loft
The Lover's Loft is a unique cozy space, not found in any other hostel.
You and your lover can nest with a bit of privacy, as this it's enclosed by a curtain. So, none of that loud and wild stuff kids!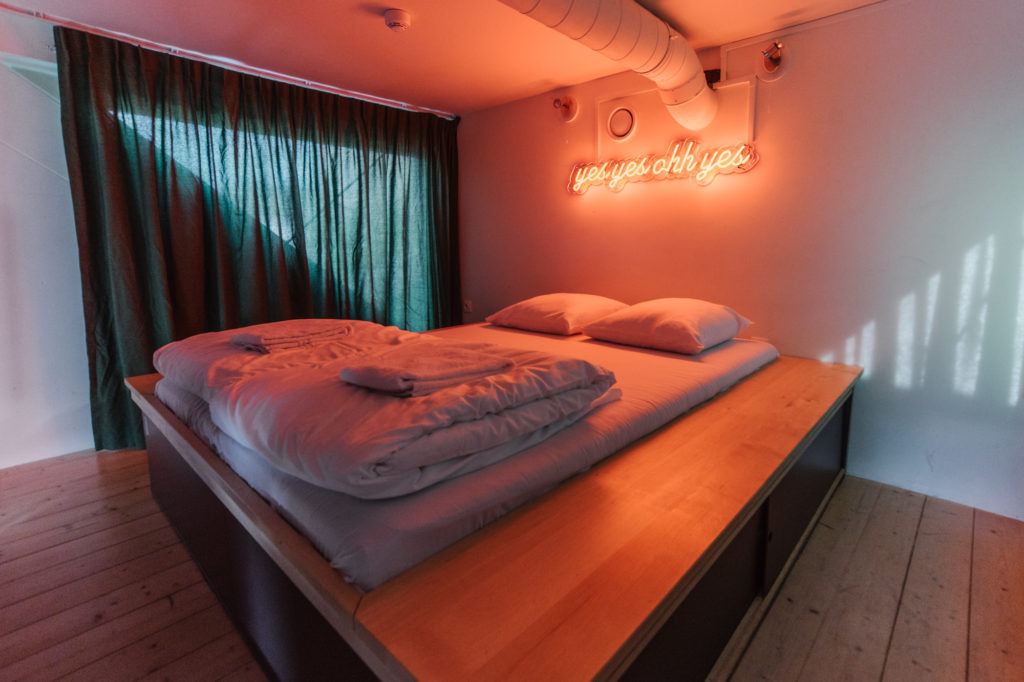 It provides the feeling of more privacy while allowing you to tap into the energy of the atmosphere and other travelers.
An addition perk of booking the loft, is that while perched up here you're be privy to a great view of Rotterdam's skyline.
Access this nook, complete with double bed, by climbing a wooden ladder.
Note: The space is small, and designed for two people (max), but single travelers who love themselves are welcome too! It is ideal for short stays and unbothered minimalist travel guests under 35 years of age.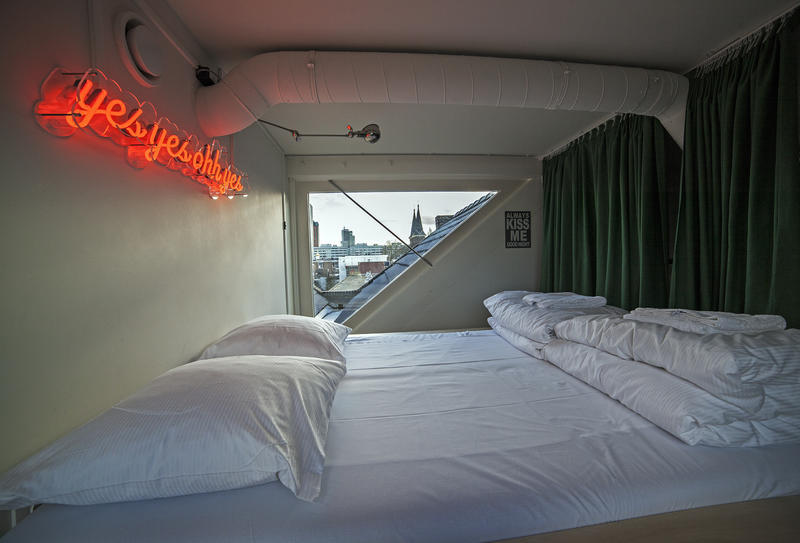 Includes: Queen size bed • High quality linen and towel • City Skyline View • Shared Bathroom • Free Wi-Fi • Private Locker
---
Hostel Features: Open 24 Hours | Free bed linen and Towels | Free lockers Including power outlets | Free Wi-Fi | Free use of tablets with internet connection | Free and open library and book swap | Free city Maps | Open living lobby | Launderette | Free printing service (up to 10 pages) | Free Walking City Tour in Rotterdam | Open Professional Kitchen | Restaurant | Free Coffee and Tea for guests from 8 till 11 a.m. | Cinema Room With Netflix | Bar
---
King Kong Hostel Guest Amenities
---
The Living Lobby
The Living Lobby was designed to evoke a feeling of being home, while allowing for effortless interactions with fellow guests, making new or connecting with old travel friends.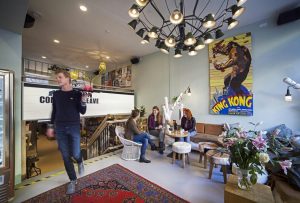 Here you're invited to have relax in this inviting room and have a drink, or not, while checking your emails or reading in a cozy quiet corner of this spacious room. Or if you're so inspired, remember there is kitchen is nearby and calling for you to create.
---
Business Center for Travelers
This is only one feature that makes this best luxury hostel for business travelers in Rotterdam.
Need to print an itinerary or a place conducive for getting some work done?
Whether you're working or studying, you will find ample space, tables and outlets in the business center. Here you can work in a peaceful environment. The sitting area is available and a great place for informal meetings.
Free prints of boarding passes or tickets are available at reception.
A King Kong Breakfast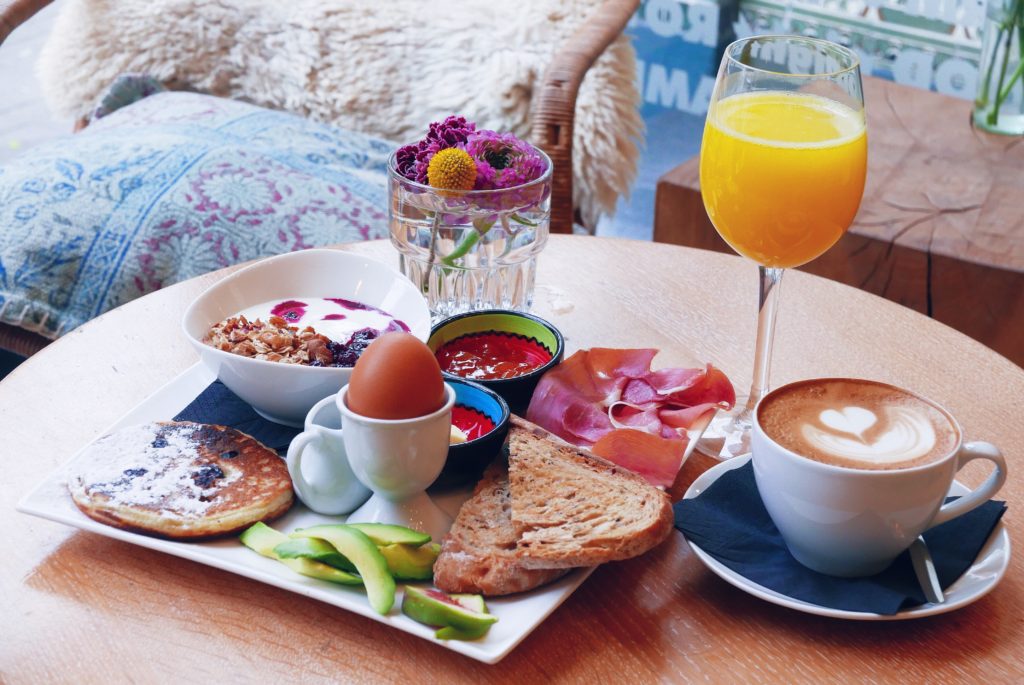 Experience the most important meal of the day in Dutch style.
Savor all of King Kong's popular breakfast dishes on one platter with a breakfast of yoghurt and homemade granola, American pancakes, fresh baked bread, boiled egg and choice between Serrano ham or cheese, complete with coffee or tea and glass of orange juice.
Open Soul Kitchen
The kitchen was designed to conjure a feeling that you're "sitting at your friend's dining table, enjoying a drink whilst you or one of your fellow travelers cooks up a feast".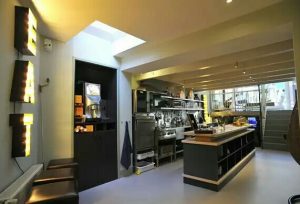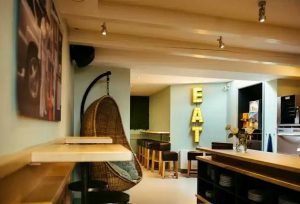 The professional coffee bar is equipped with a Spirit espresso machine, and limits your choice of a java beverage to your imagination.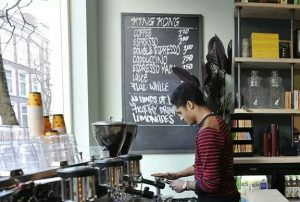 If you're not one who prefers to leave the cooking to someone else, dine from the King Kong menu.
Enjoy a breakfast buffet daily from 08:00 – 11:00. Check with the hostel for pricing. Free coffee or tea is available.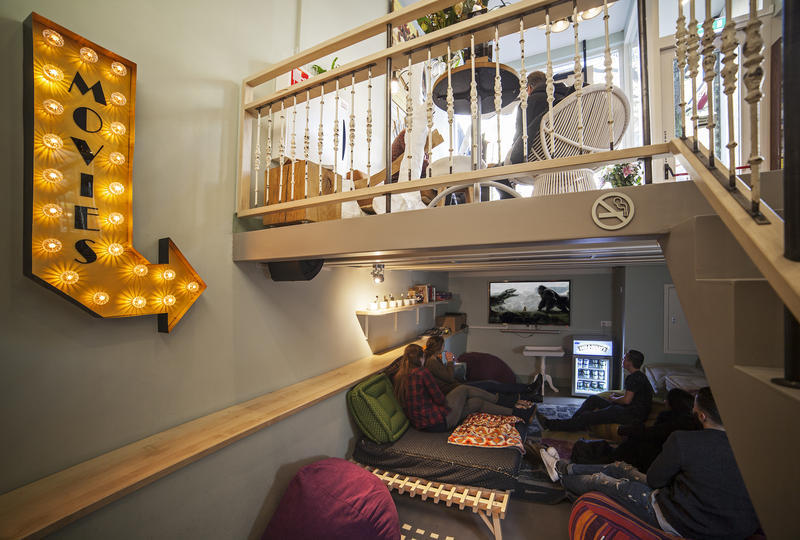 The Movie Lounge
In the basement of the hostel, you'll discover an intimate comfy lounge suitable for relaxing or to recover from long day of sightseeing, or a night out partying in Rotterdam. Here you can relax or watch a new or favorite movie or Netflix series on the big screen.
---
---
Booking Group Stays and Dining
A booking for over 10 people is considered a group booking and cannot be booked over the web.
For bookings accommodations for ten (10) or more people, please call the hostel to check availability.
Group dinner reservations are available.
Dinner includes two courses of a starter and a main course or a main course and a dessert.
Note! For dates coinciding with Saturdays, there is a two night minimum  booking policy.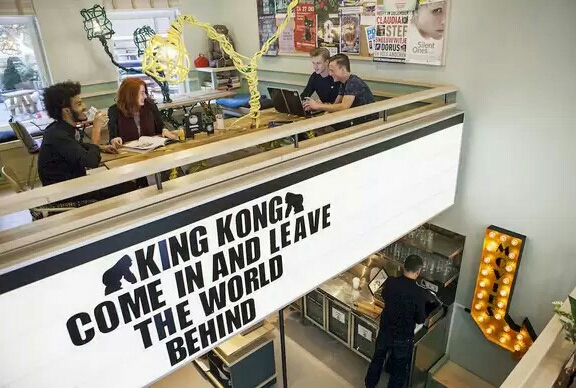 Book Student Long-Stay at King Kong Hostel 
For international students interested in exploring Rotterdam for an extended period, King Kong offers 10, 15 or 30 (max) day long stay specials in one of the eight (8) person dormitories.
Check with King Hostel for current prices. All prices include taxes, linens and towels.
Note: it is only possible to rent a bed for a maximum of 30 days. If you prefer a longer stay at King Kong, you can only do so with a month expiring between each long stay reservation.
---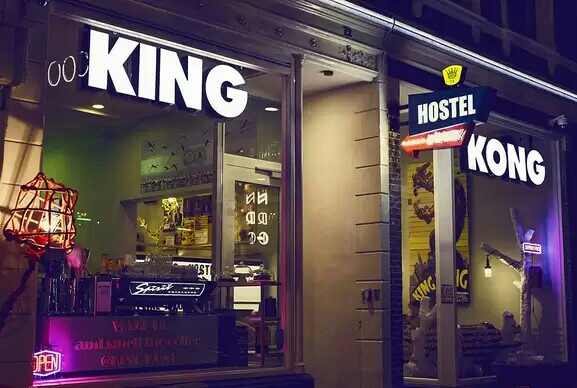 ---
Partner Deals for Kong Kong Hostel Guests
---
Guests reap the benefits of partner discount deals King Kong have with businesses in Rotterdam.
For details please ask at the reception desk!
Using the TripKey card and public transport is a great way to experience Rotterdam and surrounding areas economically. Pick up your card at at the reception desk!
Check it out on the image below and pick your favorite deals while staying at King Kong Hostel!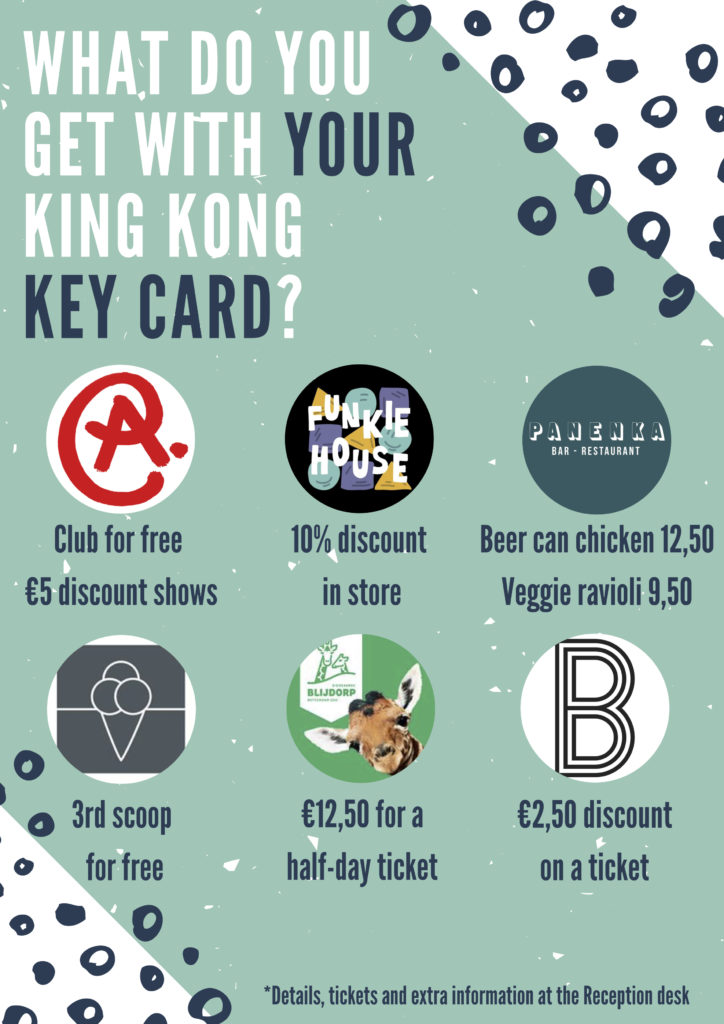 ---
Free City Walking Tour
Meet and connect with other travelers,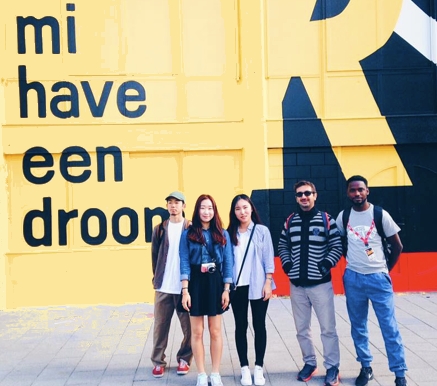 while enjoying Rotterdam's highlights and beautiful architecture, while learning of hidden local gems during the Free City Walking Tour. Sign up at the reception desk.
Happening every Tuesday and Thursday starting at 11:00.
---
Barber's Deal

If you, or someone you know is attending Schorem and booking a stay at King Kong Hostel, there are special night discounts available.
The special rates apply to a stay in an eight-bed dormitory. This rate includes linen, towel, and taxes or discount of 10% to be applied to other rooms.
Note: Only valid for direct bookings made on the KingKong website.
Get the discount code from Schorem. For more information visit: Schorem Barbier
Questions? King Kong Hostel FAQs
---
---
Things To Do When Visiting Rotterdam 
---
The Hague
The Royal City and home of the United Nation's International Court of Justice headquartered in the Peace Palace.
Unesco Kinderdijk Windmills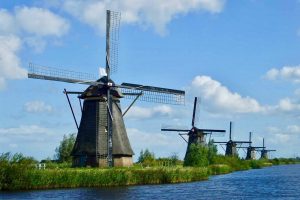 Kinderdijk, a peaceful village oasis sitting below sea level in the busy urban center of Holland's De Randstad. It was added in 1997as a result of UNESCO.
Schiedam  Jenever Museum
Experience the history, the present and the future of gin in historical Schiedam. See the stokers and the miller in action. Or do a tasting!, and pick up a bottle of Old Schiedam.
Diergaarde Blijdorp (Rotterdam Zoo)
The zoo is one of Holland's largest attractions. A key feature of the zoo is is Oceanium, the 22 meter long tunnel across the bottom of the sea.
Visit City of Gouda
Visit the city and namesake of its famous Dutch cheese. Additionally known for its candles, stroopwafels and the highest church in Holland, the city was founded in 1272.
Delft Blue Historical Center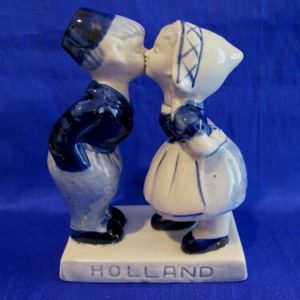 Visit the original 17th century Delft factory for a living history lesson in the production process of the world-famous pottery. Visit old historical center and Royal Churches.
More from Locaux!
Discover & bookmark other walking tours in the Walk It! Locaux – Amsterdam Series and others here:
---
Remember to tune into Locaux!, The Podcast. We're celebrating the stories of phenomenally unconventional single women have followed a strong pull to upsticks from their country of origin, unearth a patch of land and plants seeds where their soul feels most at home.
They are well-traveled women who have found clever ways to move countries and you can too!
So, join us, as we travel through the their minds of those who have dared greatly, giving into their obsessions and actually live, abroad.
If you have a story, let us know!
We look forward to sharing the stories of fab women like you. So yah, get in touch here to have your story, or that of another awesome woman featured on the show.
And while you're there, subscribe to get the latest podcast.
---
Discover hidden city gems perusing our insider guides. The women in our Locaux + Collectifs share local's perspective on who, what and where when visiting cities around the world!
---
Guest Contributors are Welcomed
If you have intimate knowledge of a city, becomes a contributor! 
---
Are you or someone you know a phenomenally unconventional woman that is now an expat? If so, submit to Locaux! The Podcast.
---
Locaux in your inbox.