---
Walk It! Locaux – Amsterdam, is one of several series of walking tours by Walk it! Locaux, that feature walking tours around the city of Amsterdam.
It's likely that you landed here because you're planning to visit, or have moved to Amsterdam.
Or, perhaps you like the initimacy and flexibility of meandering the streets like a local; darting in an out of shops in between grabbing a meal or stopping to refresh with Heineken as you shop.
Maybe you're a new transplant looking to learn more about your new home city(?). Getting cozy with your new favorite cafés, grocers or bars and would like some suggestions. Yes?
If so, Walk It! Locaux – Amsterdam is the series to help you navigate parts of the city as a local, or newest member of the neighborhood, might. Click & Tweet!
Come, Walk It! Locaux, with this collection of walking tours around the city of Amsterdam.
---
Amsterdam Life
Life in the city of Amsterdam truly revolves around water, and is crisscrossed by 165 canals that not only serve as passage for cargo ships, but also are homes to many Amsterdammers. The canals not only provide a place for sport fishing, it too hosts the city's ice-skating
race – Eleven Cities.
Amsterdam is a mix cozy cafes meets art meets Red Light District meets 'coffee shops' – where you can partake in your choice of ecstasy-inducing marijuana and more.
The city's center is semicircular and structured within a series of disorienting concentric canals. The streets may appear to be straight, but often and subtly veer in various directions.
This makes Walk It Locaux! – Amsterdam a great option; allowing you flexibility to enjoy the diversity along the cobbled streets and tucked in the shadows down hidden pathways of this city of many bikes.
---
---
About Walk It! Locaux – Amsterdam: walking tours around the city of Amsterdam 
This series shares a bit of history and things to do. It is organized with the city's center being the starting point.
Each tour is either an in-depth focus of one site or grouped in multiple short, mid-range and longer walks respectively.
This is a 'service' to help you better judge your level of commitment (and consumption of refreshing biertjes along the way … lol) when first setting off on your day's tour. As new friends, the latter must be stated because Team Walk It!  Locaux cares.
---
View the evolving tours in this series: Walk It Locaux! – Amsterdam.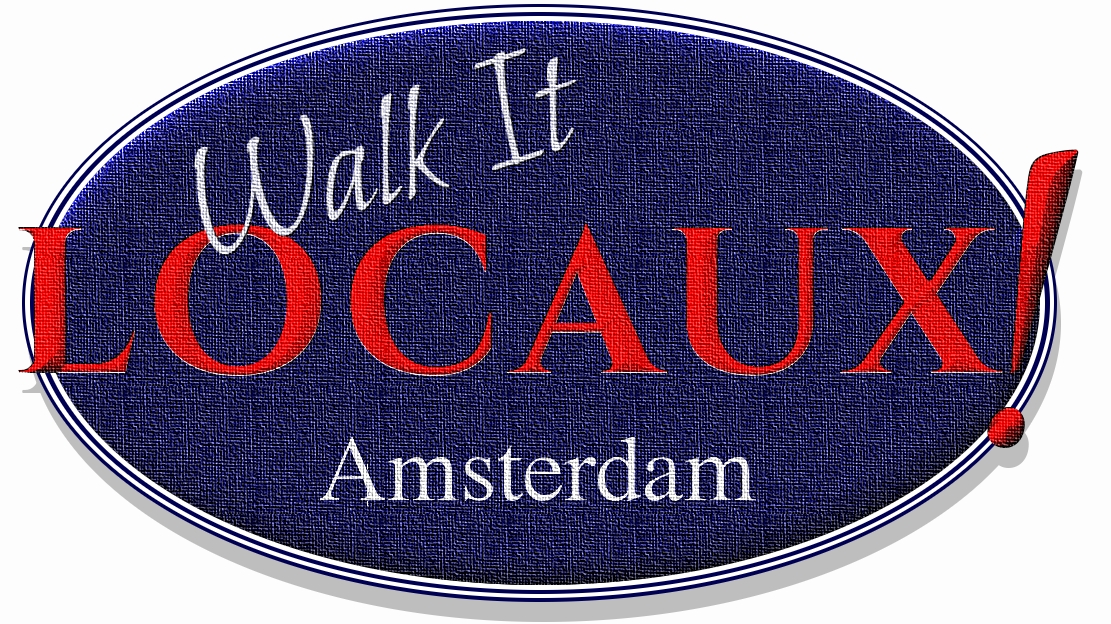 ---
More from Locaux!
Discover & bookmark other walking tours in the Walk It! Locaux Series here:
---
Remember to tune into Locaux!, The Podcast. We're celebrating the stories of phenomenally unconventional single women have followed a strong pull to upsticks from their country of origin, unearth a patch of land and plants seeds where their soul feels most at home.
They are well-traveled women who have found clever ways to move countries and you can too!
So, join us, as we travel through the their minds of those who have dared greatly, giving into their obsessions and actually live, abroad.
If you have a story, let us know!
We look forward to sharing the stories of fab women like you. So yah, get in touch here to have your story, or that of another awesome woman featured on the show:
And while you're there, subscribe to get the latest podcast.
---
Locaux Insider's Travel Guides
Discover hidden city gems perusing our insider guides. The women in our Locaux + Collectifs share local's perspective on who, what and where when visiting cities around the world!
---
---
Guest Contributors are Welcomed
If you have intimate knowledge of a city, becomes a contributor! 
---
Are you or someone you know a phenomenally unconventional woman that is now an expat? If so, submit to Locaux! The Podcast.
Get Locaux! Share your story here.
---
Locaux in your inbox.